"I'm privileged and humbled that Volteface has invited me to be part of their amazing organisation – I'm honoured. In all of my campaigning in all of these years, I have never joined or formed an advocacy group. I think because with anything we've done, we've only campaigned when we know, and are confident we are going to make the change." – Charlotte Caldwell
This week we are welcoming Charlotte Caldwell to our new Advisory Board. It is through Charlotte's persistent campaigning on behalf of her son Billy that cannabis was rescheduled in 2018. Nonetheless, for Charlotte, and many other patients, there is much more work to be done, especially with regards to patient access.
We have set up the Advisory Board to ensure that we are committed to advocating on issues relating to medicinal cannabis. We hope to keep patient engagement at the core of our work, and ultimately continue to empower patient voices by working closely with our Advisory Board. 
In line with this, we interviewed Charlotte to chat about her journey with Billy to finally receive medical cannabis on the NHS.
Welcoming you to the Advisory Board only seems natural, how would you describe your journey advocating for Billy's cannabis medicine?
"It has been a long hard battle for Billy to have access to the medicine that is saving his life." 
How did you find out about cannabis medicine?
"Billy has always had epilepsy since birth. When he was born I was told he would not survive, and I was sent home from the hospital expecting him to die. But he didn't. In 2016 the seizures started to get really bad, I tried to access a consultation with his paediatric neurologist on the NHS. They said it was a 6-9 months waiting list, but Billy didn't have that long" 
Desperate to save Billy's life, Charlotte contacted Professor Nordli, an American neurologist with expertise in treating refractory epilepsy, and Billy was seen in September 2016. 
"I didn't take him for medical cannabis, I took him to see Professor Nordli. I didn't know medical cannabis would be an option."
While in America Billy then underwent tests to assess whether he would be a candidate for surgery, but he wasn't. At this point, Billy had tried 27 different pharmaceutical treatments which hadn't worked. 
"The doctor spoke about medical cannabis, and asked if Billy had tried it. He hadn't, the doctor then referred us onto another neurologist with expertise in medical cannabis treatment. Billy was then prescribed the whole plant CBD, without THC, for micro-dosing. At this point Billy was still having between 200-300 seizures per day. Then on week 11, we saw a change when the length of his seizures started to decrease, and he was recovering faster. That's when we knew it was working. On the CBD whole plant alone, Billy was 98% seizure free."
Billy and Charlotte spent 8 months in California working with health professionals to find the optimum cannabis treatment and dose for managing Billy's condition, refractory epilepsy. 
"The doctor added THC to see if we could get Billy 100% seizure free.The first bit of THC he had caused a seizure. Billy was then blue lighted to hospital because he couldn't tolerate THC at that time, even though it was a really small dose. The THC was switched to THCA, alongside the whole plant CBD. Billy then went 300 days seizure free." 
It's incredible to hear first hand the therapeutic potential of medicinal cannabis. Billy's story shows why it is essential that patients are able to work with medical professionals to find the most suitable treatment for their condition. Charlotte believes it is important that people know more about the intricate details of medical cannabis treatment, like the difference between cannabinoids THC, which is psychotropic, and THCA, which is non-psychotropic.

"Once the dose was fine, we came back in February 2017. Billy's GP wrote the first NHS prescription for cannabis oil, which he received until May 2018, when Billy's doctor was advised not to prescribe Billy's medication anymore." 
At this point in Charlotte and Billy's journey is when their story hit the headlines, and the campaigning began. Billy's medicine had been confiscated at Heathrow airport, and his life was in the hands of the Home Office. Just days after Billy's medication had been seized, he took a turn for the worse. On day 6, Billy was blue lighted to Chelsea and Westminster, with those around him fearing the worst.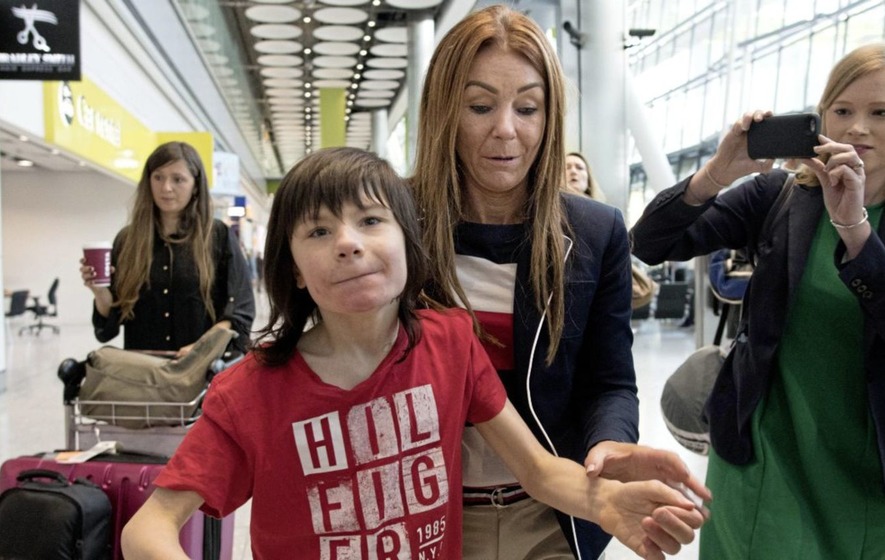 "The doctors were treating him with their hands behind their back.The seizures wouldn't stop, and the only medicine that worked was in vault at the Home Office. But the doctors assured me they were going to get my little boys medicine back, and we waited in anticipation."
Billy and Charlotte's traumatising rollercoaster to secure medicine is every parents worst nightmare, but through this story legislative reform was triggered.
"Billy then got his medication back, he was the first NHS prescription in June 2018, then following this two other families were given prescriptions.Then fast forward to the 26th July, and they announced they were going to change the law, then on the 1st of November 2018 the law was changed."
The campaign for Billy's medicine was a success, and marked a milestone for medical cannabis reform in the UK. While a remarkable achievement, Charlotte told us this still wasn't enough to ensure that Billy could have his medicine.
"Billy's seizures started to break through again. I took him to a doctor in Canada where he was assessed. Billy had started puberty. He had to be transitioned to a new medical cannabis product. The doctor sent all the information over to Belfast, then I got a call from the Department of Health, saying if I were to come back with Billy's medication I would be arrested. I've lost count of the private and NHS consultants I contacted, to get support for Billy's prescription. Then finally a doctor agreed to prescribe the medicine for Billy, and we came home safely in February 2019."
Charlotte began campaigning once again to ensure that Billy's medicine could not be taken away again. Off the back of Billy's case RECAS has been established. RECAS is a team of expert paediatric neurologists, who support doctors prescribing cannabis for this condition. If a patient with refractory epilepsy might benefit from cannabis treatments, they can be referred to this panel, who will assess their case.
"Billy got it back! I'm really proud and I thank Matt Hancock for setting that up on the back of Billy's court case, because he didn't want people to have to go to court again. Billy is happy, vibrant, doing incredibly well, laughing, loving, learning."
When hearing heart wrenching stories like Billy's, it becomes clear why this incredible young boy had the ability to shift stagnant opinions, transform the socio-political climate, and make immense legislative change. The therapeutic use of cannabis is a highly sensitive issue, and many patients are afraid to speak out about their experiences. It is through the bravery of patient advocates like Charlotte that change has been possible, and undoubtedly by continuing to champion patient voices more progress will be achieved. It has been a pleasure working with Charlotte and Billy so far, and we look forward to all that is yet to come. 
This interview was conducted by Ella Walsh, and interviewed Charlotte Caldwell.