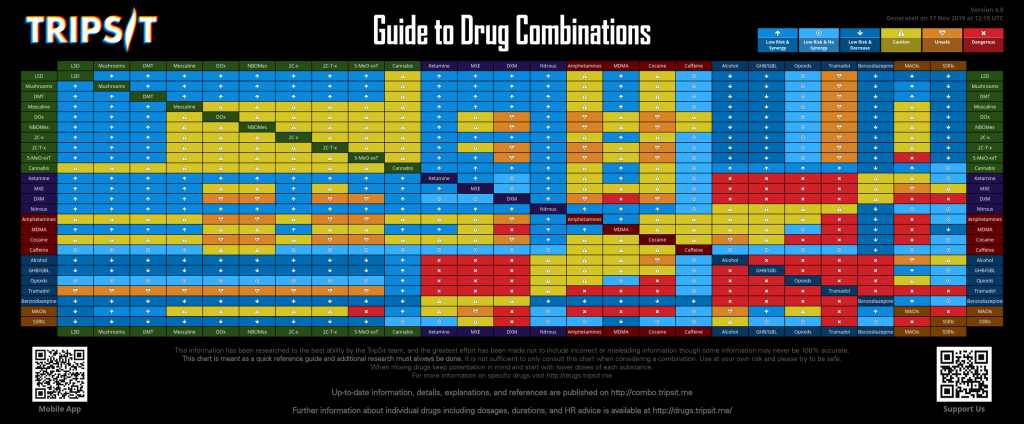 Below are a list of websites with harm reduction resources to ensure that people who are taking drugs are aware of the risks involved and how best to mitigate them:
Drugs and Me: Drugs and me are are a social enterprise for benefit-harm management in the context of drug use. a small team of scientists, writers and engineers developing content, digital tools & research to help people make healthier and safer decisions while using drugs recreationally. Useful tools include a drugs index and an interactive tool to check how dangerous individual drugs are when mixed with other substances.
The Loop: The Loop is a drug testing charity that tests substances at festivals and in city centre sites across the UK, and issues alert about substances of concern. You can view all of the alerts issued by The Loop here.
Drugswise: Drugwise provide drug information which is topical, evidence-based and non-judgemental. They have a drugs FAQs section, as well as a drugs encyclopaedia/definitions page.
Crew: Crew is a harm reduction and outreach charity based in Scotland which aims to reduce drug and sexual health related harms and stigma, improving mental and physical health without judgement. They have an extensive drugs information page and you can order substance specific resources from their website.
DrugScience: DrugScience is an independent, science-led drugs charity. They provide information on different types of drugs including stimulants, opioids, cannabis, legal drugs, depressants and psychedelics.
Neurosight: Neurosight is a social enterprise whose purpose is to reduce drug-related harms and associated deaths. They have a useful blog, along with a range of harm reduction services and products for organisations.
Release: Release is the national centre of expertise on drugs and drugs law. They have a section on legal advice for those using drugs, and information about how drugs are policed.