Chapters
There is a tendency for cannabis to be given a low priority by providers and commissioners.
Existing Public Health Measures
The relevant public health measures which emerged in the context of problematic cannabis use, were non-residential treatment centres offering formal support in the community, brief or informal interventions and publicly available resources to be used independently. Different levels of intensity of support are useful as they allow people to engage with the support and guidance which is appropriate to their level of need. Whilst some people may reach their goals relatively independently, others may require more support. The three forms of support will be examined below to assess how effectively they are engaging and supporting people experiencing problematic cannabis use.
Treatment Centres
Treatment centres are the most common way in which people access some form of formal support for their problematic use. However, there is a tendency for cannabis to be given a low priority by providers and commissioners. Among people experiencing problematic cannabis use, there is a perception that their needs will not be effectively supported at treatment centres.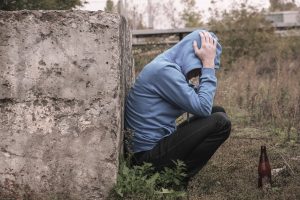 Clients
An overarching theme emerging from an open survey conducted for this report was that people experiencing problematic cannabis use or who had experienced it in the past, are unlikely to perceive treatment centres as somewhere they would go to for help.
Any respondents who had not attended a treatment centre for support were asked how they would feel about attending. The responses revealed there was stigma against heroin users with respondents saying that they would be reluctant to enter a service that is associated with heroin users.
"I wouldn't [go] as these centres are associated with heroin addicts."
Treatment centres highlighted examples of clients presenting to treatment for cannabis related support, fearing intimidation from other service users or using derogatory language about other service users.
One contributor commented that "cannabis users don't want to mix with users of 'harder drugs' as they have preconceived ideas of what kind of people they are." Another contributor reported that cannabis users have said they "don't want to sit with a bunch of junkies" and people entering treatment for cannabis would prefer to access a centre which exclusively offers a service to cannabis users.
There was secondly the concern among people that there would be a stigma attached to them if they were to attend a treatment centre. Though there is evidence that cannabis has become normalised in certain sections of society,1Monaghan, M., Hamilton, I., Lloyd, C. and Paton, K., 2016. Cannabis matters? Treatment responses to increasing cannabis presentations in addiction services in England. Drugs: Education, Prevention and Policy. 23(1) pp.54-61. one respondent highlighted that, "it's still a taboo to be a 'pothead' and is still looked at as the dregs of society are the users of this evil." Respondents have cited concerns that there would be a record they have used a controlled substance and the adverse impact this could have on their future prospects.
A third barrier to entering treatment was people's own perception that their cannabis use wasn't sufficiently problematic to warrant formal support. One respondent replied that if it was suggested that they attend a treatment centre, that "even if maybe I did [need it]. I would feel it's probably a little extreme."These findings highlight the perception that the treatment centre model exclusively offers support to users with high, complex needs, despite contributors highlighting examples of inclusive services not targeted towards opiate users.
These perceptions that treatment would be an inappropriate place for people experiencing problematic cannabis use coincided with a belief that austerity had reduced the effectiveness of service delivery or that service delivery was generally poor. A recent review of drug and alcohol commissioning has cited increasing concern over the sustainability of drug and alcohol services with commissioners facing uncertainty over resources and reporting concerns about the unstable political environment and how this may potentially impact on services.2Public Health England and Association of Directors of Public Health. 2014. Review of Drug and Alcohol Commissioning. A joint review conducted by Public Health England and the Association of Directors of Public Health. Public Health England.
"Utterly opposed [to treatment] given that I know how poor drug treatment is." (Cannabis user)
These responses highlight that the image presented by treatment centres could be more effective at appealing and engaging people experiencing problematic cannabis use.
"I wouldn't [go] as these centres are associated with heroin addicts."
Commissioners
Despite rising numbers in treatment, Local Authorities are inconsistently prioritising problematic cannabis use among adults. A review of 12 current LA Drug and Alcohol strategies from across England found that only two Local Authorities raised cannabis as a substance which the borough should address among adults.3Leeds City Council. 2013. Leeds Drug and Alcohol Strategy and Action Plan 2013 – 2016; Rochdale Safer Communities Partnership. Substance Misuse Strategy 2013-2015. See appendix for reviewed Local Authority Substance Misuse Strategies. Contributors suggested that commissioners are not prioritising cannabis as it is not clear to them how problematic use has an impact on the wider community in terms of cost. Justifying an  investment in an intervention requires the case to be made for how it will save costs for other local services. This lack of awareness can be attributed to the lack of guidance that is offered to commissioners, indeed Public Health England neglected to mention cannabis in its 2014 document Alcohol and drugs preventions treatment and recovery: why invest?4Public Health England. 2014. Alcohol and drugs preventions treatment and recovery: why invest? Public Health England. This omission is in opposition to an ACMD report reiterating that cannabis has 'unquantified, but real, economic costs to society'.5Advisory Council on the Misuse of Drugs. 2008. Cannabis: Classification and Public Health. Home Office. p21
As drug and alcohol service providers are operating in a competitive market, there is little incentive for them to be attentive to problematic cannabis use and invest in interventions, particularly in the face of shrinking budgets, if there is no stipulation from commissioners for them to do so.
This neglect of cannabis is at odds with the attention commissioners are paying to smoking cessation in treatment centres, in response to research highlighting that smoking rates are far higher among people who require support with their substance use in comparison to the wider population.6Cookson, C., Strang, J., Ratschen, E., Sutherland, G., Finch, E., McNeill, A. 2014. Smoking and its treatment in addiction services: Clients and staff behaviour and attitudes. BMC Health Services Research. 14(304). This move reflects a broader trend, with NICE guidelines advising services to identify people who smoke, offer and arrange support, and implement a comprehensive smoke-free policy.7NICE. 2013. Smoking: acute, maternity and mental health services, Chapter 1. NICE. Public Health England have requested that services begin collecting data on smoking.
It is reasonable for commissioners to pay greater attention to tobacco as smoking is highly prevalent among drug and alcohol users.8Public Health England., Turning Point. 2015. Improving Smoking Cessation in Drug and Alcohol Treatment: Interim briefing on Turning Point's PHE-supported smoking cessation pilots. Public Health England. However, it is inconsistent for commissioners to only be attentive to tobacco, when cannabis is most commonly consumed with tobacco,9European Monitoring Centre for Drugs and Addiction. 2016. European Drug Report: Trends and Developments. Luxembourg: Publications Office of the European Union. making the two substances inherently interlinked in a treatment context.
"The only way I could stop smoking cannabis was to stop smoking cigarettes." (Cannabis user)
Put plainly, if a person is being encouraged to cease smoking, they should also be encouraged to cease using cannabis or change their cannabis consumption habits.
"Staff attitudes don't help, they see it as 'just a joint'."
Treatment Practitioners
For the people who enter treatment for problems relating to cannabis, it was highlighted that some practitioners working in adult services will consider cannabis to be a  low priority. The neglected state of cannabis has been observed both within and outside of England,10Monaghan, M., Hamilton, I., Lloyd, C. and Paton, K., 2016. Cannabis matters? Treatment responses to increasing cannabis presentations in addiction services in England. Drugs: Education, Prevention and Policy. 23(1) pp.54-61.; Dennis, M., Babor, T., Roebuck, C., Donaldson, J. 2002. Changing the focus: the case for recognizing and treating cannabis use disorders. Addiction. 97(1) pp.4-15. with contributors suggesting it was typically older practitioners, who had become accustomed to working with opiate or crack cocaine users, who were less likely to acknowledge cannabis as a problematic drug.
"There is a real variety of perceptions and knowledge around cannabis which can be dependent on age. Workers who have been around cannabis are more clued up."
"Staff attitudes don't help, they see it as 'just a joint'."
Despite an ambivalence about problematic cannabis use, which is still prevalent in treatment centres, provider and non-provider sources have noted that in the past 2-3 years, high THC and low CBD strains of cannabis have changed practitioner perspectives and the nature of conversations they are having with their clients.
"Cannabis was previously seen as bottom priority but unpleasant new versions have changed the dialogue around cannabis."
Moreover, one practitioner commented that due to the rise in referrals, there is a greater expectation that problematic cannabis users will enter the service. Out of the four survey respondents who indicated that they had attended a treatment centre, three highlighted that their key worker did recognise that cannabis had become a problem in their life and offered them support which met their needs. The remaining respondent felt that practitioners 'do not have the experience necessary to empathise with someone who uses a substance as a crutch'. Though these responses highlight some good practice being undertaken in treatment, the response rate is not a representative sample.
Outcomes
When analysing outcomes data for people entering treatment, outcomes for people experiencing problematic cannabis use are relatively poor in comparison to other substances. Cannabis users are most likely to fall into the non-opiate client group and within this category, cannabis users are the most likely to have 'unchanged' consumption at the 6 month review and are one of the groups who are most likely to deteriorate. They are also one of the groups who are the least likely to be abstinent at the end of their 6 month review, although not reaching abstinence should not automatically be seen as a benchmark of failure.
By contrast, within the non-opiate category, cannabis users are the group who are most likely to show some level of improvement once hitting the 6 month mark.
The largest reduction of an average day's use was observed for cannabis, though the proportion of days reduced actually showed the smallest drop. Among users of other substances, average days of use drops by more than half, whereas for cannabis users, average days of use drops by less than half. The picture is mixed, and while there is clearly good work being undertaken in treatment, the figures do also show that more could be done to support people with their cannabis consumption.11Public Health England., University of Manchester., National Drug Evidence Centre., Department of Health. 2016. Adult substance misuse statistics from the National Drug Treatment Monitoring System (NDTMS) 1st April 2015 to 31st March 2016. Public Health England.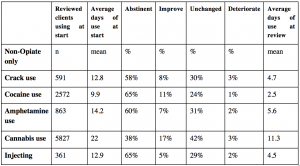 Figure 1.3 Outcome data (Public Health England et al, 2016)
GPs should have the knowledge to respond to problematic cannabis use and not just refer to a treatment centre.
Brief Interventions
For people who do not engage with formal treatment or feel they do not require formalised treatment, there is an absence of informal, brief interventions for them to turn to.
Informal, brief interventions would most typically occur in a primary care setting, yet contributors have reported that in response to efficiencies, GPs do not have the time to offer these interventions in-house, with a recent BMA survey finding that 57% of GPs find their workload unmanageable.12Kirkby, J. 2016. Patient safety at risk because of GPs' 'unmanageable' workloads, BMA survey finds. The Independent, 28 November.
"GPs not spending enough time with patients – it doesn't take 8 mins to understand a complex cannabis problem but they are swamped under pressure and don't have the time."
Contributors also highlighted that GPs have not been given enough training to confidently support a person who is using cannabis problematically.
"GPs should have the knowledge to respond to problematic cannabis use and not just refer to a treatment centre."
This is particularly problematic for medical cannabis users who use cannabis therapeutically and who are seeking guidance from their GP on how to manage their unwanted symptoms of cannabis consumption  or how to consume cannabis most safely. Medical cannabis users have reported that managing their medical cannabis use has been an individual experience of trial and error.
I need some support on taking it and how to control the negative side effects that it will, and does, bring.
Jacob's Story
"The first time I had a hint of using cannabis as a medicine was in the hospital from the surgeon who performed on me. When he described to me that I would be facing a bit of discomfort in the future, he did the whole smoking gesture, and said if I ever feel a bit uncomfortable, just have a smoke. I thought he meant cigarettes, which didn't make any sense to me; obviously a couple of years later it did make sense.
I see cannabis as useful, as it is able to replace a lot of drugs which have bad effects on patients that take them, like opiates, but I need some support on taking it and how to control the negative side effects that it will, and does, bring. I get anxious, and obviously you lose your short term memory. You can do things to try and make that better, but it does affect your metabolism and it does affect your personality to a certain extent.
GP-wise, no one's offered me support, they don't know what they're talking about and I've never met one that does. I've had to teach all my GPs everything they know about cannabis and most of them pushed me onto another doctor."
The situation is similar in non-substance community services, where understanding of how to support a person with their cannabis consumption is still specialised to treatment centres. As problematic cannabis use can encompass and be a symptom of a wide range of needs, the person may already be seeing a professional at a Job Centre Plus, accessing a mental health service or other community service. Yet contributors have reported that wider services are mostly not offering brief interventions, due to the perception that they do not have the capability to offer support relating to cannabis. This is unfortunate when considering there is evidence that brief interventions influence a recipient's likelihood of reporting abstinence, fewer cannabis related problems, and less concern about their cannabis use.13Stephens, R., Roffman, R., Curtin, L. 2000. Comparison of extended versus brief treatments for marijuana use. Journal of Consulting and Clinical Psychology. 68(5), pp.898-908.; Copeland, J., Swift, W., Roffman, R., Stephens. 2001. A randomized controlled trial of brief cognitive–behavioral interventions for cannabis use disorder. Journal of Substance Abuse Treatment. 21(2), pp.55-64.; Gates, PJ., Sabioni, P., Copeland, J., Le Foll, B., Gowing, L. 2016. Psychosocial Interventions for Cannabis Use Disorder. Cochrane Database of Systematic. 5, CD005336.
Publicly Available Resources
Information and Self Help Resources
There are limited amounts of public resources available for people experiencing problematic cannabis use, with mixed levels of quality and accessibility. There are no NHS leaflets that GPs can offer patients experiencing a problematic relationship with cannabis, though there are NHS webpages on cannabis.14NHS Choice. 2014. Cannabis: the facts. NHS, (online) Available at:<http://www.nhs.uk/Livewell/drugs/Pages/cannabis-facts.aspx> (Accessed 30 December 2016). It was reported that Talk To Frank is one of the sites GPs will signpost their patients to, yet the site was criticised by both practitioners and survey respondents for being filled with misinformation and lacking harm reduction advice.
"The public information cannot be trusted, ask Frank is obvious propaganda."
"Guidance would be helpful, i.e. not getting misinformation (Frank) and getting a positive balanced view from PHE / Govt sites."
"We stopped signposting due to the lack of harm reduction and some misinformation we have found over the years. There has also been a lack of updates, materials and joined up work with policy, health, and other services to promote or produce relevant and up to date information. We'd say that it is okay to have a quick look and reference but to always seek a second and third opinion, and if possible talk to an expert about the specific issue or scenario that is in question."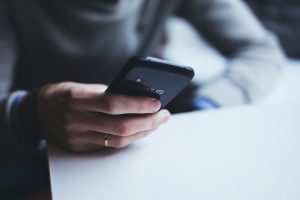 However, other contributors highlighted that there had been significant improvements to the website in the past few years, with more harm reduction information being offered.
Digital interventions and resources, such as Breaking Free Online, are being used by practitioners,  yet contributors have reported that take up has been relatively low among practitioners despite a rise in new sites and recognition that digital interventions are a potentially effective and underutilised resource.15Hoch, E., Preuss, U., Ferri, M., Simon, R. 2016. Digital Interventions for Problematic Cannabis Users in Non-Clinical Settings: Findings from a Systematic Review and Meta-Analysis. European Addiction Research. 22(5), pp.233-242.; European Monitoring Centre for Drugs and Addiction. 2015. European Drug Report: Trends and Developments. Luxembourg: Publications Office of the European Union.
"I know they're useful [digital interventions] but I prefer to use paper."
"I don't use digital interventions, I'm not aware of them."
New or alternative media forms also have potential to be useful resources, examples including podcasts such as Say Why To Drugs16Gage, S., 2016. Say Why To Drugs.
[audio podcast]
https://www.acast.com/saywhytodrugs and web applications such as The Drugs Meter17Winstock, A., 2014. https://www.drugsmeter.com/
and Safer Use Limits.18Winstock, A, 2015. http://saferuselimits.co/ Such resources could be more widely utilised, although it should be noted that these resources have not yet been independently evaluated for their efficacy, and so their utility is currently unknown.
Forums
Another site that GPs can refer their patients to is a UK-based forum entitled 'Marijuana Anonymous'. This is a twelve step programme which offers users the opportunity to 'share your experience, strength and hope or ask questions about the 12 Steps', with meeting times and public information also publicised. Online forums are useful as they can act as platforms for peer support, which can offer knowledge, social interaction, emotional assistance and practical help for users, families and friends, while restricting incorrect or offensive information.19Nesta., National Voices. 2013. Peer Support: What is it and does it work? Summarising evidence from more than 1000 studies. Nesta. Fitzrovia Youth in Action, a youth action charity, which offers drug and alcohol programmes, recommended  peer support as a highly effective intervention for engaging people in support and guidance.
A criticism of the website is that a requirement for membership is the desire to stop using cannabis, which excludes any person who is looking to reduce their cannabis consumption. It is problematic that any benefits to be gained from using this website are advertised as exclusive to people who are seeking abstinence.
Alternatively, survey respondents reported that there is a plethora of useful guidance dispersed through forums within the online cannabis community.
"I generally find online forums to be the best way of delivering information as you can get feedback from other people."
"I thought what I was smoking was 'natural' which most street cannabis isn't."
As these forums were driven by people with lived experience, respondents explained that the forums were able to offer balanced guidance relating to cannabis. Research also indicates that anonymised user forums and online chat rooms 'encourage and facilitate information sharing about drug purchases and drug effects, representing a novel form of harm reduction for drug users'.20Buxton, J., Bingham , T. 2015. The Rise and Challenge of Dark Net Drug Markets. Global Drug Policy Observatory. Swansea University. p.1
However, there is also an issue of access as knowledge of these forums are confined to the online cannabis community, which limits the reach of any useful information and guidance. Moreover, as the information is unregulated, respondents have acknowledged that the quality of the information can be inconsistent, with practitioners reporting that their clients had been misled by information posted on online forums or other unregulated websites, also making them inadvisable sources of information for professionals.
"There is plenty of information [on forums] which should be consolidated into fewer sources of better quality."
There is a need for more accessible and better quality public resources relating to cannabis as practitioners have reported that the normalisation and benign image of cannabis in some communities has led to an acceptance of symptoms of problematic cannabis use.21Monaghan, M., Hamilton, I., Lloyd, C. and Paton, K., 2016. Cannabis matters? Treatment responses to increasing cannabis presentations in addiction services in England. Drugs: Education, Prevention and Policy. 23(1) pp.54-61. People with lived experience of problematic cannabis use highlighted that there is not enough information available on the negative effects of cannabis and how those effects can be managed, with 14 respondents reporting they thought cannabis was a harmless drug before it became a problem later in their lives.
"I thought what I was smoking was 'natural' which most street cannabis isn't."
Limited available public resources are not meeting the needs of people experiencing problematic cannabis use if they provide inconsistent levels of quality, and can be difficult to access.
Continue Reading
Want to comment or contribute?
Join the debate on twitter @VolteFaceHub