Chapters
"I was patrolling the cells and a prisoner ran out of his cell, completely naked. He climbed onto the snooker table thinking it was his bed. He soiled himself. When we tried to restrain him he had almost super-human strength, and it took three prison officers and a nurse to restrain him. And shockingly – when he came to the next morning he did not remember a thing. They never do."1
In the changing landscape of prison life, traditional drugs have been usurped by poorly-understood synthetic cannabinoid receptor antagonists (known by brand names such as "Spice" and "Black Mamba"). Meanwhile, prisons are suffering from record levels of overcrowding, violence, suicide, and persistently high rates of reoffending.
According to Peter Clarke, HM Chief Inspector of Prisons, prisons "have become unacceptably violent and dangerous places."2 Peter Clarke, HM Chief Inspector of Prisons, Annual Report 2015-16 Total assaults in prisons have risen 64% since 2012, assaults on staff have risen 99%, and the number of self-inflicted deaths in custody has risen by 75%. 3 Ministry of Justice, Prison Safety and Reform, November 2016, p40 In the 12 months prior to September 2016, there were 23,775 assaults, 5,954 assaults on staff, and 107 suicides. Prisons now average one suicide every 3 days.4 Ministry of Justice & Office of National Statistics, Safety in Custody Statistics Bulletin England and Wales, Deaths in Prison Custody September 2016 Assaults and Self-Harm to June 2016, 27 October 2016
Over the last 20 years, the prison population has doubled. "Sentences have got longer, there is less flexibility in sentencing, mandatory sentencing has risen. More people are going to prison and they are going to prison for longer."5 Andrew Neilson speaking at Volteface event – https://volteface.me/features/bridging-the-gap-betwixt-and-between/
As the prison population grows, so too does overcrowding within an increasingly underfunded prison service. Prisons have lost £900,000,000 in funding over the last parliament,6 Richard Heaton speaking to the Justice Select Committee – http://data.parliament.uk/writtenevidence/committeeevidence.svc/evidencedocument/justice-committee/ministry-of-justice-annual-report-and-accounts-201516-and-related-matters/oral/41412.html while the number of operational staff has fallen from 29,660 on 31 March 2012 to 23,080 on 31 March 2016.7Ministry of Justice, Prison Safety and Reform, November 2016, p41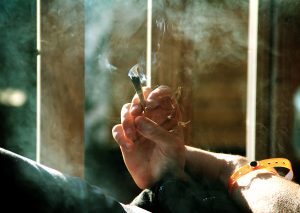 Flickr - Unai Mateo
A reduction in staff has led to a reduction in purposeful activity for prisoners: With too few staff available to let prisoners out of their cells for education, training or work; prisoners are often locked down in cells for very long periods,8 Out of 11 men's local prisons reviewed by HM Inspectorate of Prisons for 2015-16 report, none were deemed 'good' for purposeful activity outcomes and 9 were 'not sufficiently good' or 'poor'. resulting in an increase of, mental health problems and demand for drugs, while the ability to disrupt the supply of drugs has declined.
As the Lord Chancellor notes in the foreword to the much-anticipated Ministry of Justice white paper 'Prison Safety and Reform', "prisons are not working." Our prisons are not only failing inside but upon release; almost half of all prisoners are reconvicted within a year of release. The cost of re-offending is estimated to be up to £15 billion a year.9 Ministry of Justice, Prison Safety and Reform, November 2016, p5
If we are to tackle prison security, reoffending rates, costs, and protect wider society from crime, we need to think seriously and practically when discussing drug policy in prisons. As the MoJ white paper points out: "No one can be expected to change their behaviour and turn their life around while they are dependent on drugs, in fear of being assaulted, or considering harming themselves."10 Ministry of Justice, Prison Safety and Reform, November 2016, p40
Continue Reading
Want to comment or contribute?
Join the debate on twitter @VolteFaceHub