The latest book from Professor David Nutt is a one-stop-shop for everything you could ever need to know about cannabis.
As the world slowly but unstoppably moves away from a century of cannabis prohibition, this book acts as an indispensable guide to the past, present and future of cannabis and its uses across the globe.
An intriguing mix of political analysis and commentary, scientific explanation and historical context, the book provides a holistic overview, similar to the 'Very Short Introductions' series from OUP, except this book whilst similarly academically rigorous, benefits from much greater readability.
Neatly divided into sections and chapters, the structure flows well and allows for the reader to focus on the sections of most use or interest to them. The use of subtitles is good signposting for the reader and is part of the reasons it's such a useful resource for a variety of people from medical students to medical cannabis patients. Graphs and informational asides also feature prominently and add to the rounded feeling of information imparted by the authors unto the reader.
In terms of content, the book makes a compelling argument in favour of reassessing the centrality of 'gold standard' RCTs (Randomised Controlled Trials) when it comes to the development of new medicines and treatments. Designed to eliminate bias and other human-fault-variables, they end up as a gatekeeping tool wielded by powerful pharmaceutical companies looking to protect their own products and profits.
Another issue the book throws light on is the New Labour record on drug policy. Nutt obviously has skin in the game in terms of criticising the records of the Blair and Brown governments. But, he makes a convincing case for the almost complete failure of New Labour to take effective, progressive action on drugs.
On the science side – the book makes complex scientific points in an accessible manner, the explanations of the entourage effect, and the way that THC and CBD form a natural complementary see-saw, counteracting the effects of one-another, were particularly interesting.
My one gripe is that at times it does feel somewhat like an extended advertorial for Drug Science, a UK based drugs advisory body and research organisation founded by Nutt in the aftermath of his infamous dismissal from the chairmanship of the Advisory Council on the Misuse of Drugs in 2009.
Overall though, the book is a good read and will make a great resource for students, patients, doctors, activists – anyone interested in cannabis and drug policy. Definitely one to add to the library if you haven't already – and the latest in a series of books from Professor Nutt, including 'Drugs Without The Hot Air' that have become compulsory reading for those involved in drug policy reform circles.
Cannabis: Seeing Through The Smoke
By Professor David Nutt, and Brigid Moss
Yellow & Kite, 2021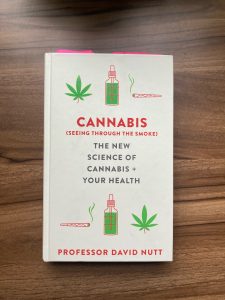 This piece was written by Jay Jackson, Head of Public Affairs at Volteface. Tweets @wordsbyjayj