First Wednesdays in collaboration with data from Crunchbase and Seedrs last week released their report titled 'The European Cannabis Investment Ecosystem (ECIE), examining "the scope and scale of major, EU-wide investments by venture capitalists and retail investors".
The report determined that the European cannabis sector was "extremely hot for European investors right now", with total investment exceeding €1.2 billion, 20% of which was raised in the first 6 months of 2021, and anticipated that "fundraising could grow beyond a record breaking €350 million in 2021 at its current rate"
The report is comprehensive and insightful, offering a combination of quantitative data from stock exchanges across Europe and perspectives from cannabis consultancy Hanway Associates. While the report is independently valuable in understanding European stock markets and cannabis ecosystems, it also offers optimistic signs of the state and future of advocacy efforts towards cannabis legalisation: 
Medical cannabis investment & patient access.
Access to medical cannabis, while legal, is severely limited through the NHS. With just eighteen patients having been prescribed the medication since its legalisation in 2018, medical cannabis patients in the UK are forced to pursue private prescriptions through medical cannabis clinics.
The government's failure to expand access based on a lack of clinical evidence to support its expansion has opened up a gap in the market for companies to deliver cannabis medicines to patients in an innovative and affordable way.  
The report spotlights the work of Oxford Cannabinoid Technologies (OCT), a company which is developing "a portfolio of licenced pain pharmaceuticals as an alternative to opioid treatments" focussed primarily on alleviating chronic pain. After listing on the LSE in May 2021, OCT accumulated the largest figure raised  to date by a UK-listed cannabis company. The research firm could expand the types of cannabis-based medicines that address chronic pain accessible for UK patients by 2027.
The increasing use of private prescriptions for medical cannabis can offer persuasive clinical evidence to support access via the NHS, creating a base of patient-focussed evidence compiled by initiatives like Drug Science's Project Twenty21 that seeks to quell the government and NHS' concerns in prescribing an under-researched product.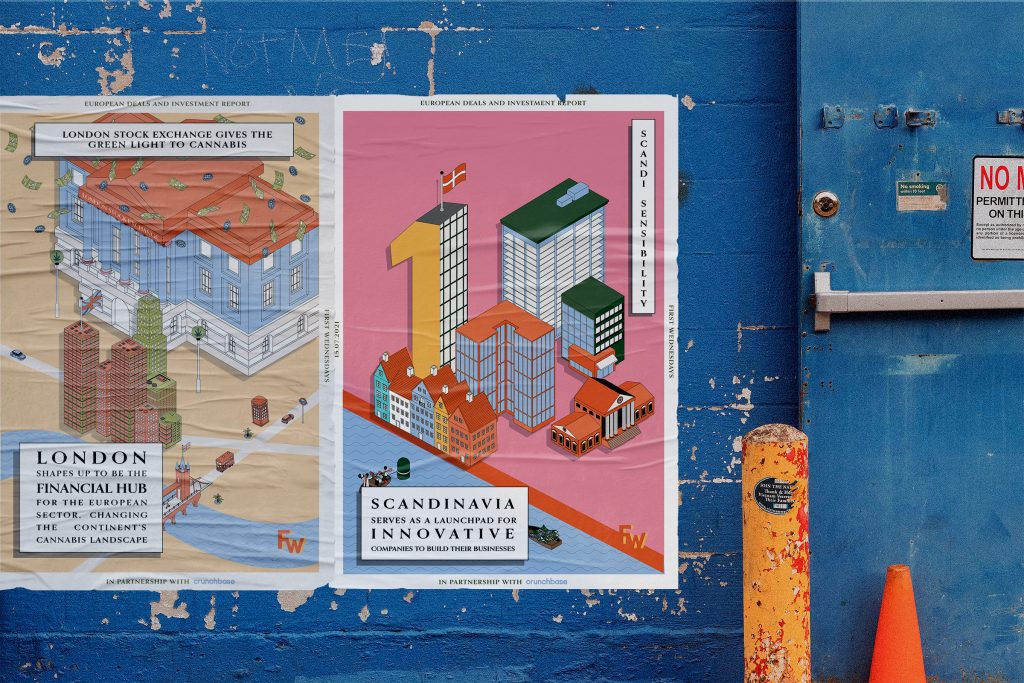 Normalisation and destigmatisation.
The reputational damage of the Misuse of Drugs Act 1971 on the acceptance and integration of cannabis-based medicines into the mainstream medical ecosystem cannot be understated; In limiting the drugs' research and prohibiting its medical use until 2018, doubts over the legitimacy of cannabis-based medicines and products linger today both among patients and medical professionals. 
The findings of the First Wednesdays report could indicate that this is due to shift. The excitement in stock exchanges toward cannabis-related or -specific products means that investors are backing a big boost to the sector, driven largely by consumer habits. And with medical cannabis use steadily increasing throughout the Covid-19 pandemic as patients seek to alleviate anxiety, it is clear that cannabis-based products are experiencing a growth in their perceived normalcy and legitimacy, and reduction in stigma toward their use.
Political engagement and stock market activity.
The relationship between politics and the stock market has always been reciprocal: New legislation opens up new opportunities for investment and informs consumers, investors and analysts of emerging trends, while surges in interest from investors dually signal to politicians an area with great economic potential. This firmly entwined interrelationship renders First Wednesdays' insights a more pertinent reflection on political lobbying efforts than at a first glance. 
The existence and success of cannabis companies on European stock exchanges demonstrates to governments that the cannabis industry is flourishing, and is not only profitable, but a politically safe and indeed popular move. 
Promising displays of diverse support.
The report highlighted an interesting trend of celebrity angel investors becoming "comfortable enough to dip their toes in" to the European cannabis ecosystem, listing celebrities Will.i.am, Alyssa Milano, Mario Goetze, David Beckham and Anthony Joshua's investments among others. This promising activity indicates two key advancements in advocacy efforts: The first, a growing normalisation and acceptance of cannabis, where those with a public standing whose careers previously would have been jeopardised by admittance of cannabis, or cannabis-based product use, feel comfortable enough to not only publicly but financially back cannabis-related companies. 
It also signifies a more diverse base of support for cannabis products, historically championed almost exclusively by 'celebrity stoners' like Snoop Dogg and Seth Rogen. Now cannabis companies are able to engage with high-profile sportspeople, actors, models, and musicians that reach a wider demographic of consumers than initially accessible. 
Keeping sight.
While the economic benefits of medical cannabis' legalisation are clearly demonstrated in the report's findings, it is easy to lose sight of the human repercussions of the limited access that currently exists. Whilst the situation is improving, there are still many who are unable to afford a legal prescription and are therefore forced to rely on the black market.
The continued criminalisation of cannabis users without a legal prescription – even if they might be using for medical purposes – illuminates the need for further reforms and advocacy groups to drive the right kind of model.
While the decriminalisation of recreational cannabis use would bare few economic advantages for investors, there are tangible economic benefits to sections of society, such as the police and the already overstretched criminal justice system. Decriminalisation of possession would free up police time to allow them to go after hardened criminals – a frame that could chime well with those on the Law & Order Right.
As First Wednesday's report highlights, it is crucial to celebrate the successes of the 20 cannabis-related and 15 cannabis-specific listings in London's stock exchange and dozens more across Europe. It shows promise in all directions for cannabis-related advocacy efforts, and most importantly should improve the lives of cannabis patients across the continent.
Issy Ross is Content Officer at Volteface, Tweets @isabellakross