Over the last year Volteface has been researching the barriers and hesitations faced by clinicians in the UK toward feeling comfortable and confident in prescribing medical cannabis.
Known Unknowns represents a dive deep into the perceptions, concerns and hopes of UK clinicians for medical cannabis, which, although being legal since 2018, still sits on the fringes of the UK healthcare system with prescribing remaining low. Our report recognises that in order to move forward, the industry faces challenges, and for cannabis to become mainstream as a treatment, a number of concerns that currently exist amongst clinicians must be addressed.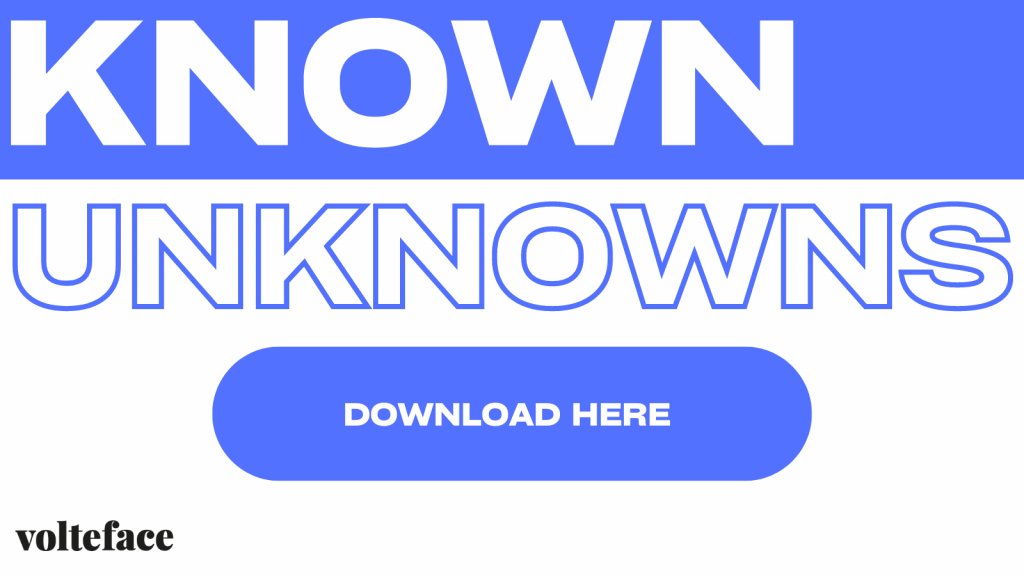 Medical cannabis has remained a contentious issue, with few patients having received prescribed cannabis products in the UK. One of the key reasons for the lack of engagement and enthusiasm to prescribe cannabis in the UK is due to the way in which rescheduling takes place. 
Clinicians to date have been viewed as the 'gatekeepers' to expanding medical cannabis access in the UK due to having at their disposal a framework that facilitates prescribing, yet limited prescribing taking place. 
The purpose of Known Unknowns was to provide clinicians with an opportunity to better understand and examine the barriers they face in regards to medical cannabis, and to offer solutions for how these can best be overcome.
The findings have demonstrated that many of the barriers clinicians experience are not unreasonable. They largely boil down to viewing cannabis as a medicinal product that should be supported by robust efficacy evidence before being widely available to patients.
Known Unknowns sought to address the issue in prescribing and how access to medical cannabis can be improved. To help understand why, despite its legality, medical cannabis is not being prescribed more widely amongst private clinicians, 41 doctors were interviewed as part of the research. 
The findings indicated three key reasons why medical cannabis is currently so under-prescribed in the UK.  These include: a lack of specific and suitable evidence of efficacy, an ineffective system of governance, and the uniqueness of cannabis as a medicine compared to man-made pharmaceutical products.
The report found a critical lack of understanding about cannabis-based medicines amongst doctors. The vast majority of clinicians interviewed as part of the report said that they lacked support and understanding in the form of guidance, information and clear protocol around the practicalities of the prescribing process. 
The report found that stigma towards cannabis amongst clinicians and clinical bodies is a further barrier, as decades of prohibitionist policy has naturally coloured views towards cannabis within the medical profession. These preconceived notions towards cannabis have prevented it being fully embraced as a legitimate medicine and exacerbated concerns amongst clinicians. 
In order to increase the number of medical cannabis prescriptions on the NHS, Known Unknowns explains that a drive to expand the drug privately will ultimately lead to an expansion of medical cannabis use more widely. It argues that once the drug is regularly prescribed in the private sector and the health benefits seen by clinicians, NHS provision is likely to improve as a result of pressure applied to NHS trusts, along with the wider acceptance of the medicinal uses for cannabis.
Looking at how improvements can be made going forward, the report also explores existing solutions and innovative steps currently being taken in the industry as a way of addressing the concerns outlined by clinicians. It highlights data, research and industry insights from leading medical cannabis organisations. We suggested five key solutions to tackle the three barriers facing clinicians as detailed in the report:
1. Prescribing outside of the clinic model
The current cannabis clinic model has been a limiting factor for bringing on interested clinicians. A solution to this is providing easily accessible governance platforms that allow clinicians to make an informed decision to prescribe cannabis without having to do so through a clinic. 
Sana Healthcare have developed Script Assist, an integrated governance platform, to support clinicians prescribing medical cannabis. The lack of governance was highlighted to be a key barrier amongst clinicians and this platform is a solution as it streamlines the process and addresses the lack of understanding regarding the practicalities of prescribing expressed by the medical community. 
2. Indication specific products
The lack of indication specific evidence was raised as a concern by clinicians for not prescribing in a targeted manner. Both Tikun Olam and Little Green Pharma have been conducting research on targeted medical cannabis products, helping to make prescribing easier and more straightforward with products that have a certain degree of evidence behind them.
3. Conducting further clinical trials 
A major barrier to broadening out access has been the limited number of high quality clinical trials conducted for cannabis medicines. We spoke to Knowde Group and Cymra Life Sciences about the need for the sector to conduct clinical trials and collect data that will eventually lead to mainstream pharmaceutical approval for the sector. 
4. Innovative mechanisms of dosing and administration
Given the uniqueness of cannabis as a medicine, the way in which it is typically administered is a barrier for many clinicians, due to association with a typical recreational product. Companies like Syqe and IX Biopharma  have developed innovative delivery mechanisms that give a consistent, metered dose with high bioavailability in a way that looks and feels like a medical product a clinician would prescribe.
5. Peer to peer support and education amongst clinicians
Poor education and a lack of awareness were at the core of the lack of confidence in prescribing cannabis. Our report highlighted the work being done by the Medical Cannabis Clinicians Society and Primary Care Cannabis Network for educating doctors and bridging the fear of the unknown amongst the medical community. We also mention Plantific, a plant science educational platform providing professional education for the sector to build credibility and trust amongst its users with unbiased content. 
—
Overall, Known Unknowns is a deep dive into the most significant barriers facing the clinical community for prescribing medical cannabis and a pairing of feasible solutions for what the sector can do, along with what is already taking place across a number of organisations. 
Volteface hopes this report will broaden out conversations both in the cannabis industry and across UK healthcare to consider cannabis like other medicines.
The report makes a series of practical recommendations to address the problems it identifies with the current model of prescribing.
Recommendations: 
Mainstreaming cannabis prescribing in clinicians' daily practice:

As detailed by the clinicians in the research, there is a hesitancy to join cannabis clinics as nowhere else in the medical system are there

single drug clinics

. To address the hesitancy and resistance that exists in the medical community, we should seek innovative means to promote prescribing through creating new opportunities to prescribe outside of the cannabis clinics, while engineering an infrastructure to empower clinicians to prescribe cannabis in normal clinical settings.

Open up communities of practice for clinicians to access medical cannabis information:

The disparate perceptions over the quantity, quality and acceptance of evidence indicates a need to streamline knowledge in the medical community. As the vast majority of clinicians revealed that they lack support in terms of the practicalities of the prescribing process, it is important to ensure that the necessary information is available to clinicians through multiple channels in order to create a community of accessible knowledge for peer-to-peer support.

Collecting evidence across sectors:

Given the identified need for additional evidence, data should be collected across cannabis prescribing in all settings for specific products, for specific indications, and with a clear distinction in terms of the delivery mechanism and dose. Furthermore, the analysis of patient experience data for specific products would support both informed prescribing and the collation of broader real-world evidence. Accounting for each prescription and gathering an in-depth body of evidence in a range of forms can then be reported back in a feedback loop to further consolidate the knowledge base.

Launch a clinician-centred campaign:

Due to the lack of general knowledge and awareness of cannabis in the medical community, a national campaign should be launched amongst clinicians and medical professionals to increase appropriate prescribing in normal clinical settings and signpost relevant information, training and support.

Consider cannabis as per other medicines:

A clear stigma within the medical community has emerged from this research in terms of cannabis as a product. Given the drug's illicit nature and its recreational associations, clinicians are hesitant to engage with or to prescribe due to its status as an unlicensed,

special

medicine. However, since there are numerous other unlicensed medicines that are not treated with the same degree of resistance, the focus must be placed on evidence rather than emotion in terms of biases against prescribing cannabis.

Conduct more RCTs to supplement the knowledge base:

The development, implementation and funding of RCTs is of particular importance to bringing new clinicians on board and stimulating interest in prescribing medical cannabis. Higher quality RCTs are required, and although some are already underway, there are other forms of evidence that can inform and facilitate prescribing. The current knowledge base needs to be accessible and signposted to clinicians at the point of care, so they can prescribe based on the best available evidence. Unless the cannabis industry is more successful in engaging clinicians on indication-specific product evidence, we are unlikely to see mainstream market access to CBPMs.
The piece and the Known Unknowns Report was written by Volteface's Head of Operations, Katya Kowalski. Tweets @KowalskiKatya.
You can access the full report here: Volteface Report: Known Unknowns
You can download a plain text version of this report here: Volteface Report: Known Unknowns Plain Text