On 6th July, PSYCH Symposium returns to London to explore emerging research, technologies and opportunities which have the potential to reshape the landscape of mental healthcare. Read on for all the information you'll need about the event. 
Off the back of last year's successful launch, this year's event has an action-packed agenda featuring leading industry figures. Housed within The British Museum, Psych Symposium 2023 aims to facilitate dialogue between industry, government, investors, academia, advocacy groups, patients and beyond, to expedite the development and adoption of psychedelic medicine. 
Matthew Wall, Head of MRI Applications at Invicro London said: 
"The commercial psychedelics sector is currently heavily focussed on clinical trials and expanding psychedelic therapy into new indications. This is great for patients, but my feeling is there needs to be more of a parallel effort aimed at understanding mechanisms; this will definitely help further refine and develop these ground-breaking treatments."
The conference boasts an array of interesting panel discussions featuring the input of some impressive speakers, some of which include:
Professor Robin Carhart-Harris: Head of the Centre for Psychedelic Research, Imperial College London

Professor Ceila Morgan: Head of Ketamine Assisted Psychotherapy for Addiction, Awakn Life Sciences

Christian Angermayer: Founder, Apeiron Investment Group

Sarah Tilley: Founder and CEO, Beautiful Space 

Mikuláš Peksa: MEP, European Parliament

Dr David Erritzoe: Clinical Senior Lecturer & Consultant Psychiatrist, Imperial College London

Tadeusz Hawrot: Founder And Executive Director, PAREA

Charlotte Nichols: Labour, Member Of UK Parliament

Amir Inamdar: Chief Medical Officer, Cybin Inc

George Mcbride: Chief Commercial Officer, Clerkenwell Health
A full list of speakers can be found here. 
In January, 2023 was labelled 'the year of the psychedelic', with a number of clinical trials and company advancements scheduled to take place – and so far this year has lived up to expectations. 
Tadeusz Hawrot, Founder of the Psychedelic Access and Research European Alliance (PAREA) said: 
"European policies and regulatory frameworks have been slow to respond to advancements in the field of novel psychedelic medicines. However, 2023 promises to bring about change, and the EU will start transitioning from being a slow adopter to a regulatory benchmark."
It started in February with the announcement of the legalisation of therapeutic MDMA and psilocybin in Australia. Excitingly, this is set to come into effect just days before the conference. 
Moving into May, the UK appeared to make some advancements in terms of access to psilocybin treatment. A House of Commons debate on the topic received cross-party support, and explored the current barriers to research, as well as the possibility of rescheduling the substance. Charlotte Nichols MP, who was praised for her powerful submissions to the debate, will also be speaking at Psych Symposium. 
At the start of June, the first ever phase 3 trial investigating psilocybin treatment for depression got underway, with over 800 participants set to take place.
And finally, as the first half of the year comes to a close, the Food and Drug Administration (FDA) has issued new, more progressive guidance on trials involving psychedelics. According to the FDA, psychedelics show "initial promise" as potential therapies, meaning that the US could soon be following the same path as Australia. 
With all of these developments having taken place in such a short period of time, it's clear that the industry is at an inflection point in its journey of bringing these potentially life-changing treatments to patients who desperately need them. To fully realise the potential of this revolutionary area of medicine, companies, authorities and patients alike need to come together as the industry advances towards approval and commercialisation. The conference's founder, Stephen Murphy, aims to achieve just that: 
"Psychedelic medicine has the potential to revolutionise the treatment of mental health and neurological conditions, fundamentally shifting the way we treat and manage some of the most impactful illnesses affecting modern society today. Last year's PSYCH Symposium surpassed even our greatest expectations and reaffirmed the global interest in this ground-breaking industry.

This year we are aiming to go even further and facilitate these crucial discussions which are pivotal in ensuring the psychedelic sector thrives. London represents the natural place for this event to take place, as the capital of the psychedelic cluster which has emerged from its renaissance. We look forward to seeing everyone on Thursday 6th July for what promises to be another landmark event."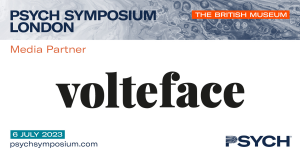 Volteface are partnering with Psych Symposium to provide media coverage of the event. Tickets are expected to sell out in advance, to secure yours click here.
This piece was written by Volteface Content and Media Officer Megan Townsend. She is particularly interested in the reform of drug legislation, subcultural drug use and harm reduction initiatives. She also has an MA in Criminology from Birmingham City University. Tweets @megant2799.