A new report has revealed that approximately 29.6 million people (50.2%) in the UK could be entitled to a medicinal cannabis prescription, yet just 0.048% of the population has been given a prescription for it.
The report was released by Releaf, a UK medical cannabis clinic which is campaigning to spread awareness and reduce the social stigma with the findings from a survey of 4,210 people – the largest study of its kind.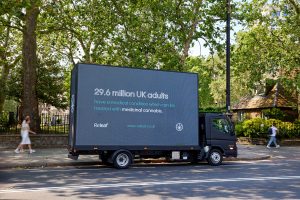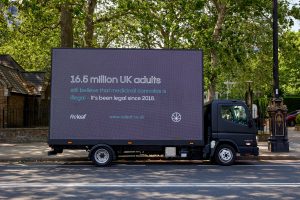 As part of their campaign, vans have been driving across London with some of the most
thought-provoking stats from their report.
Medicinal cannabis was legalised in the UK in 2018, with an emerging evidence base that has documented improvements in a range of symptoms and conditions, such as chronic pain, fatigue, anxiety and more. Common illnesses which may be treated with medical cannabis include chronic pain, depression, cancer and migraines.
Despite the high number of people living with conditions which may be eligible for medical cannabis treatment, only two individuals surveyed stated that they received a prescription, representing 0.048% of the sample.
Impact and awareness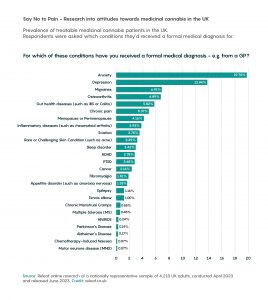 The report also asked respondents about the impact their conditions had on them, with 32.83% admitting their condition had limited their ability to work or study. As well as this, 1 in 4 (25.15%) said they were worried about their future health.
Data also showed that 45.6% of people in the sample with a eligible condition reported living with significant distress and discomfort. Anxiety was the most prevalent of the conditions eligible for medical cannabis treatment, with 19.74% of respondents reporting that they had the condition.
Interestingly, whilst 83.7% of respondents were aware cannabis could be used to relieve a range of health conditions, more than half (58.5%) were unsure of its legal status, suggesting that the UK still has a way to go in terms of awareness raising of medical cannabis.
Social Stigma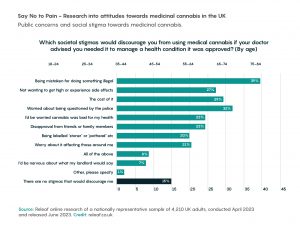 Concerns around social stigma were also an issue, with 34.16% of respondents discouraged from using medicinal cannabis as they were worried it would be mistaken as being illegal, whilst approximately 1 in 6 (16.86%) were worried their family and friends would disapprove.
Discussing the clinic's research, Mason Soiza, founder and CEO at Releaf said:
"Since medicinal cannabis prescriptions were legalised in 2018, we have seen a lack of prescriptions being issued. Our report reveals two factors that could be at least partially contributing to this; that people are unaware it is now legally available via a prescription and that people still attach a negative stigma to it.

"However, findings from the report further show that more than two-thirds (67.67%) of people
would consider using it as a treatment. With so many potential benefits available to users, it
is important we all work to separate the beliefs that cannabis, when prescribed through legal
means, can be a positive drug with life-altering effects – and that isn't something we should
label as bad or withhold from patients who clinically need the help it can provide."
Releaf state they are the UK' first fully online medical cannabis clinic, offering a discreet service for those who would like to be assessed for prescription medical cannabis. The entire patient journey takes place in one online platform. Prospective patients first complete a video consultation with a leading cannabis doctor. If approved, they offered a selection of strains along with a recommended dosage. Patients must subscribe to receive their prescription through the post.
Dr Stephen D'Souza, Medical Director, at Releaf added:
"Studies have shown for years the power of cannabis as a medicine to treat symptoms such as depression, migraines, gut health and more.

"Whilst it has been legal since 2018, we know the perceptions of medicinal cannabis are still closely associated with the effects you see from recreational users of cannabis. Long-term, our goal is to bring further research into the UK on the efficacy of medicinal cannabis, to help spread more awareness, and we hope this report will be a big step in trying to change these perceptions."
You can read the full report by Releaf here.