In 2016, then Justice Secretary and co-convener of the Vote Leave campaign, Michael Gove, infamously declared that "people in this country have had enough of experts…from organisations with acronyms saying that they know what is best."
Whilst Gove was referring to the population at large, he could just as easily have been talking about successive UK governments, and their approach to drugs policy. The ACMD (Advisory Council for the Misuse of Drugs) – that's an initialism not an acronym – is the UK's expert drugs body, established under the Misuse of Drugs Act 1971, which "advises the government on drug-related issues".
Amongst other things, the ACMD are primarily responsible for "making recommendations to government on the control of dangerous or otherwise harmful drugs, including classification and scheduling under the Misuse of Drugs Act 1971 and its regulations".
The problem is, these recommendations have a history of being ignored by politicians whose primary concern is being seen to be 'tough' on drugs and the people who use them, as opposed to being invested in the difficult, controversial, long-term process of reducing drug-related harms and costs.
Take just this year, and you'll find two examples. In March, news broke that a report produced by the ACMD in 2016 that advocated drug decriminalisation, is being suppressed by the Home Office.
Whilst in April, the government announced a proposal to classify Nitrous Oxide under the Misuse of Drugs Act – effectively criminalising possession of the substance – despite advice from the ACMD that "the health and social harms are not commensurate with control under the Misuse of Drugs Act 1971" and that doing so would be "disproportionate for the level of harm associated with nitrous oxide and could have significant unintended consequences" including creating "significant burdens for legitimate medical, industrial, commercial, and academic uses."
Unfortunately, these cases do not represent scandalous deviations from the norm; rather, they are the latest in a series of snubs stretching back over half a century. In 1978, the ACMD cannabis working group recommended that cannabis be reclassified to Class C, but was ignored by the Labour government.
This recommendation was then further rejected under Margaret Thatcher in 1982 after the ACMD Expert Group on the Effects of Cannabis report was inconclusive on health effects and called for more research. Government used this report as part of its reason for rejecting the previous ACMD cannabis report calling for regrading.
Skip forward to 2009, and an ACMD review into the harms of ecstasy (the last one being completed in 1996) recommended a change in MDMA classification from class A to class B, on the grounds that 'the balance of harms most closely equates to that of other substances in Class B.' This advice was ignored by then Home Secretary Jacqui Smith, who said that the 'government would not send a signal to young people that ecstasy was taken less seriously.'
This controversy came only months after Smith's decision to ignore the ACMD's advice that cannabis should remain a class C drug, after having been moved from class B to C by David Blunkett – hardly a soppy liberal – when he was Home Secretary in 2001. Later in 2009, Smith's successor, Alan Johnson, infamously sacked then ACMD chair David Nutt over his views on the harms of cannabis, ecstasy and LSD.
A December 2016 report, produced by the ACMD drug-related deaths working group, amid a substantial increase in drug related deaths particularly involving opioids, recommended that:
'Consideration is given–by the governments of each UK country and by local commissioners of drug treatment services – to the potential to reduce DRDs and other harms through the provision of medically-supervised drug consumption clinics in localities with a high concentration of injecting drug use.'
This advice was ignored by Home Secretary Amber Rudd, when she published an updated drugs strategy in 2017, and in 2019, when the ACMD concluded that DCRs could have a positive impact on public health and recommended that the government explore their implementation, their advice was once again ignored.
| | | |
| --- | --- | --- |
| Substance | ACMD recommended classification | Actual classification (2023) |
| Cannabis | C (1978, 2006 and 2008) | B |
| Nitrous Oxide | Uncontrolled (2023) | C |
| MDMA | B (2009) | A |
 Obviously, in the now well worn words of Margaret Thatcher, 'advisers advise, and ministers decide'. Ministers are able to ignore expert advice as they are elected to make decisions and are, theoretically, accountable to parliament and the electorate. If a minister decides to overrule civil service advice, they are not legally required to provide a detailed explanation for their decision.
According to the Ministerial Code, 'Ministers have a duty to give fair consideration and due weight to informed and impartial advice from civil servants, as well as to other considerations and advice in reaching policy decisions, and should have regard to the Principles of Scientific Advice to Government.'
 But clearly something is going wrong, given the repeated, blatant nature of the dismissal of expert advice. This has led to calls for an independent expert body, akin to that of the Monetary Policy Committee of the Bank of England created in 1997 – to oversee our drug laws. If we trust experts to set interest rates, why not drug laws, so the argument goes.
Monetary policy was taken away from government control because it was being overly-politicised with disastrous consequences, surely drug policy suffers from the same affliction?
Others have argued that, instead of repeatedly berating the government for ignoring the scientific advice, accusing them of cowardice or a lack of leadership, we should 'recognise that Ministers and scientists are on the same side in wanting the public (and in particular the media) to understand the science underlying these difficult policy areas, so that attitude-changing discussion can take place.'
 Unfortunately, the latter viewpoint feels both impotent and naïve in the face of a never-ending 'war on drugs' being waged with increasing zeal and indiscrimination by both Labour and the Conservatives. In the context of record high drug deaths, record low prices and unprecedented levels of supply, clearly it's time for a radical rethink of our drug laws – including how they are made.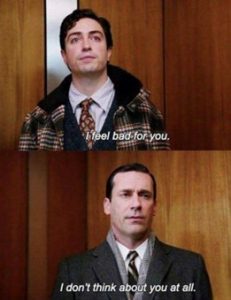 With little prospect of reform on the horizon, for now, the relationship between scientific expertise and governmental policy output resembles that of Ginsberg and Don Draper in that Mad Men meme.
Jay Jackson is a trustee of Transform Drug Policy Foundation and Secretariat of the Labour Campaign for Drug Policy Reform. Tweets @wordsbyjayj