After taking some time off due to becoming a father, Clark French, founder of the United Patients Alliance, is relaunching the patient-focused organisation at the Brighton Medicinal Cannabis Summit 2023. We spoke to Clark to get all the details…
The summit is set to take place on the 14th April and has gained the support of some of the biggest industry leaders, such as Cancard, Drug Science and I am Billy. For the event, the summit will be returning to the Brighthelm Centre, bringing patients together for the first time since 2019. Since then, the medical cannabis industry has grown massively, with some 25,000 patients currently accessing a prescription. 
The event promises to be an exciting opportunity for patients, activists, industry leaders and the Brighton community, with a range of panels and speakers and a free cannabis trade expo for auditorium tickets. Importantly, the summit aims to offer a platform for patient voices to highlight key issues and deliverable outcomes. As Clark explained: 
"We don't want to kind of just sit around and talk about what's going on, we really want to try and use this as a way to bring the patient community together and have our voices heard again,"

"If the industry can get behind patient voices it's going to be really good for the industry, because inevitably if there's more stories in the media, and more patients talking about why cannabis helps them, and how cannabis helps them, and why it's so difficult to get a prescription, […] that will build the foundations so that other people can come in and start doing real policy change work."
Although awareness is increasing around the legality of medical cannabis, many people are still unaware that they can access the drug via private prescription. It's hoped that the event continues the discussion of the legality of medical cannabis in the local community, as Clark said: 
"We want to raise awareness to the general public in Brighton that it is a possibility now to get a legal cannabis prescription because so many aren't aware of it because of all of the restrictions,"
The Brighton Medical Cannabis Summit also sees the relaunch of the United Patients Alliance, who have been inactive since the pandemic. If you haven't heard of the group before, they describe themselves as a patient group/community that aims to reschedule cannabis and raise awareness of its medicinal benefits, as well as support patients going through the prescription process. Regarding the relaunch, Clark said: 
"It's a relaunch event because it's us officially stepping back into the campaign, being an active group and organisation again and getting on with the work that we were doing previously,"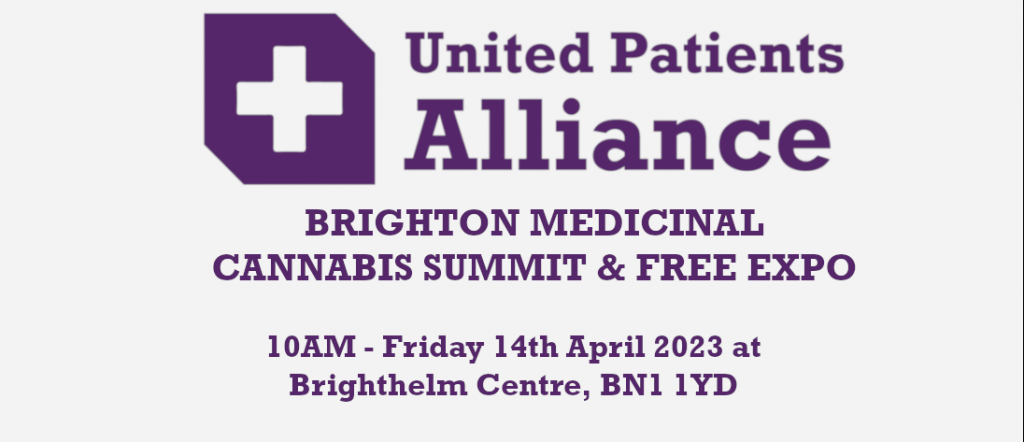 For all of the event details and to purchase tickets, head to the Eventbrite website.