This Saturday 30 September, the Medical Cannabis Conference and Annual General Assembly of the United Patients Alliance will host a series of talks from different experts. The panel includes a diverse range of great speakers: from members of Parliament to private actors invested in the legal cannabis industry, to think tank members, academics and non-profit organisations such as The Loop. You can get tickets here.
Public Representatives
Tonia Antoniazzi MP
Tonia Antoniazzi is a Member of Parliament for Gower, first elected in 2017. One of her first acts as a MP was to support the United Patients Alliance in their fight for access to medical cannabis.
Paul Flynn MP
Paul Flynn is Member of Parliament for Newport West. Flynn has been a fervent advocate of the legalisation of cannabis for more than 30 years. On October 10th, he will introduce a Ten Minute Bill to the Parliament to legalise medical cannabis in the UK.
Academics
Prof. Mike Barnes
Mike Barnes is a consultant neurologist. He has been dedicated to the development of neurological rehabilitation throughout the UK and internationally. He's also the author of a report illustrating the efficacy of cannabis in the treatment of a significant number of conditions.
Dr Axel Klein
Axel Klein is a senior lecturer of economics at the University of Kent. Together with Dr Gary Potter, he just completed a two-year study on Cultivation and Trafficking of Cannabis in the UK.
Dr Gary Potter
Gary Potter is a lecturer and criminologist at the Lancaster University Law School. Dr Potter's primary research interests are in the fields of illegal drugs (drug use, drug markets, social supply of drugs, cannabis cultivation, links between drugs and crime). He is the co-author of a two-year study on the Cultivation and Trafficking of Cannabis in the UK.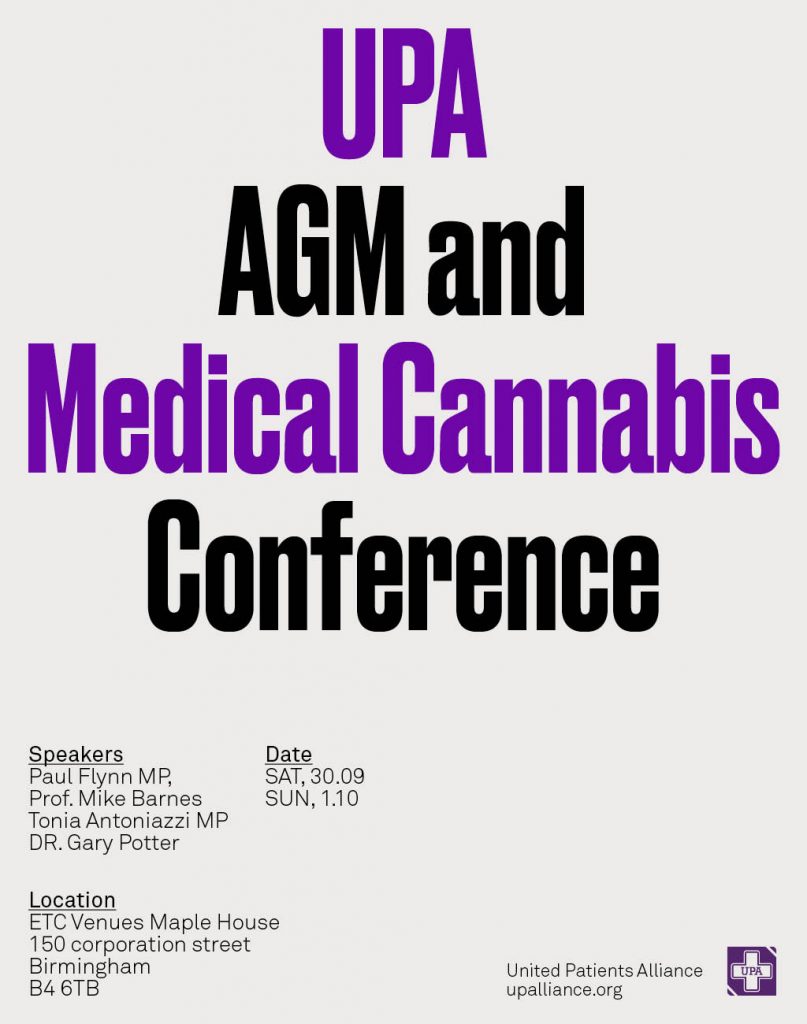 Think Tanks and Non-Profit Organisations
Kristy Douse
Kirstie Douse is Head of Legal Services at Release. She has become increasingly involved in the organisation's policy and campaign work, and is passionate about tackling the stigma faced by people who use drugs
Dr Henry Fisher
Henry Fisher is Health and Science Policy Director at Volteface. He is also a Partner of the cannabis consultancy Hanway Associates and member of the non-profit organisation The Loop, which offers free drug testing at festivals, concerts, etc.
"I'm delighted to be speaking at this year's AGM, it has a great lineup of speakers who I'm looking forward to hearing from, and it really shows how the UPA are moving from strength to strength. They're really making the voices of patients in need heard."
Beccy Gardham
Beccy Gardham is the Secretary of LEAP UK, on organisation which goal is to educate the public, the media and policy makers to the failure of current drug policy by presenting a true picture of the history, causes and effects of drug abuse and the crimes related to drug prohibition.
Private Sector
Andrew Bayley
Andrew Bayley is the founder of CBD Brothers. CBD Brothers is a sponsor of this Medical Cannabis Conference and will announce the launch of a brand new product together together with the United Patients Alliance.
Gavin Sathianathan
Gavin Sathianathan is the CEO of Forma, a company offering services in the legal cannabis industry around the world. He said he is "delighted to be part of the UPA movement, here to talk about some examples around the world of legalising access to medical cannabis".
Patients and Carers
The Medical Cannabis Conference will also host a series of talks from patients directly affected by the prohibition of cannabis in the UK. You will get the chance to hear the stories from Sarah Martin and Lezley Gibson, MS patients, and Jo and Ella Matthews, cancer patient and carer.
"We are delighted to have such prominent speakers and panels for our first Medical Cannabis Conference and AGM. Experts from the medical, scientific, academic and political professions, providing the most informed and up to date progress and offering their support in helping us reach our goal of legal access for all patients in the UK" – Jon Liebling, Political Director of the UPA
To attend the Conference and listen to these remarkable speakers, get your tickets here.
Words by Pierre-Yves Galléty. Tweets @PYGallety