This article was originally published on Medium (all pictures courtesy of the author)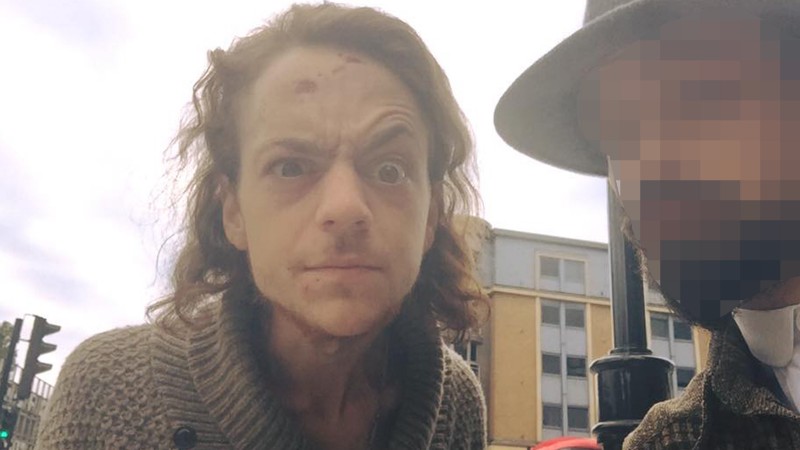 This is my brother Patrick. He has been diagnosed with schizophrenia, bipolar and depersonalisation disorder. He is addicted to heroin, crack and alcohol. He has been living on the streets of London for over eight months.
The mental health laws are failing people like Patrick every day. Four in ten rough sleepers have a mental health problem, rising to over half of rough sleepers from the UK*.
The only way that Patrick and most other mentally ill homeless people can access help — is if they decide they are ready to access help.
No one in their 'right mind' would want to live as homeless drug addict, but Patrick is not in his right mind.
Patrick is at rock bottom as a result of years of failure to address his mental health issues.


Patrick has spent the past 12 years self-medicating with alcohol and drugs in order to drown out the voices in his head and to numb the intense, all-consuming feelings.



Patrick has refused to take GP-prescribed anti-psychotics, saying that he would 'rather have a few ups and downs than be a robot' — and he will hurl abuse at anyone who suggests he might need psychiatric help. His initial experiences attempting to access mental health services in Portsmouth years ago were not positive ones. Patrick told me how he bolted from the first and only Cognitive Behavioural Therapy session without uttering a word after the counsellor's opening line was "So what's wrong with you then?"

Patrick has a long history of police incidents, hospital admissions and suicide attempts since his teenage years, and now at 28 years old Patrick is living alone on the streets unwilling to accept the help that is constantly being offered to him.
The once charming, popular and talented young musician has been reduced to a ghost of his former self.
Patrick used to spend his evenings after work writing and recording music in his bedroom.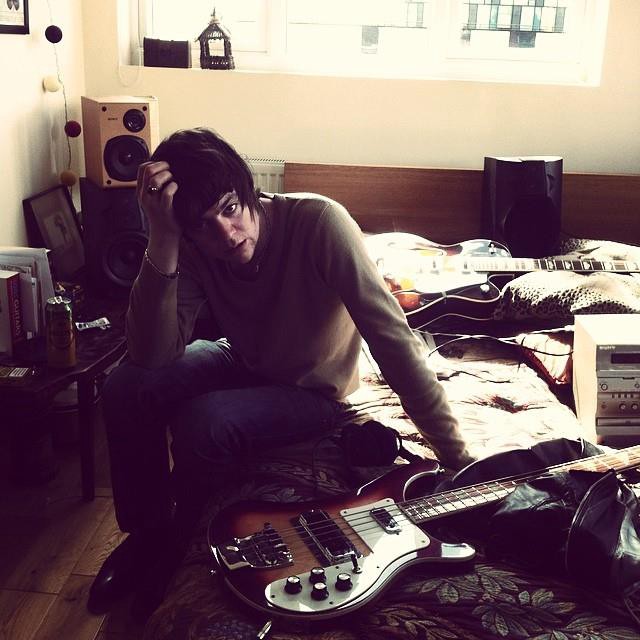 Now this is his most recent 'bedroom'…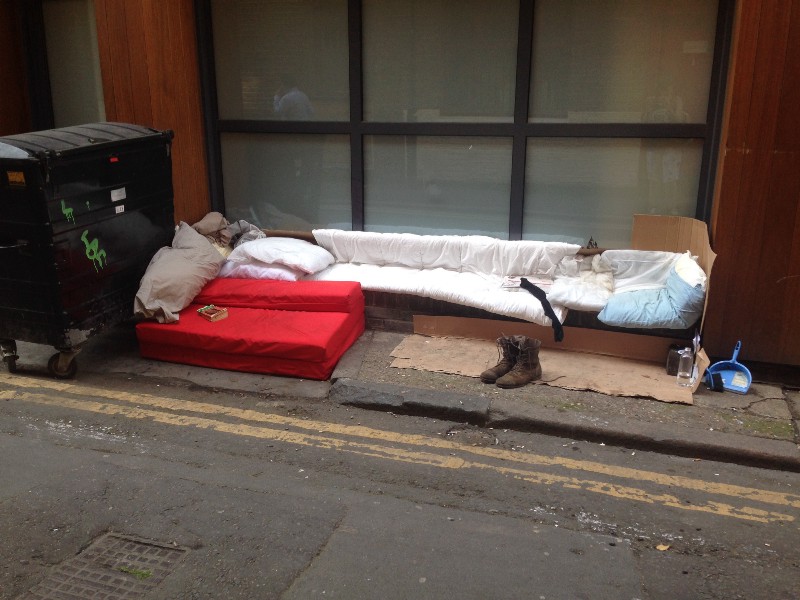 Now Patrick spends 24 hours a day begging on the streets, scavenging for drugs and trying to find shelter.
I last saw Patrick Monday 3rd October. He told me that after a string of arrests for theft, he'd narrowly escaped being sent to prison. If he gets caught breaking the law again he will be locked up immediately.
The law doesn't take into account Patrick's mental health. The police can only arrest Patrick for the crime he is committing at the time. Patrick is never in one place long enough to be arrested/sectioned under the Mental Health Act and he is always very good at putting on a show for whoever he is speaking to — enough to convince them that he has capacity. And so he is left to crumble and fall victim to his own delusions in 'private'. Except it's not private — his home is the streets of London.
I've never seen him looking so physically unwell as he does now. On October 3rd he came to see me and told me that he had had enough of the streets. He asked me for our mother's phone number and told me he'd be back to see me the next day. He said he was going to go to ask for help (methadone and housing — not the psychiatric kind unfortunately as he is still in denial about his mental illness) from Providence Row, a brilliant homeless charity who have been trying their hardest to help him for months.
But he hasn't turned up there for weeks, he didn't come back to see me, my mum hasn't heard from him and he doesn't own a phone anymore so can't be contacted.
Who knows where Patrick is now or when we will hear from him again.
This is a major part of the problem. My brother has fallen through the cracks of society. Patrick has quickly become part of the 'forgotten' mentally ill homeless people in the UK — the real people living their real lives on the streets turning to drink and drugs because the reality of facing up to their mental health issues is just too much to comprehend.
It has become easier for Patrick to give up on 'normal' life and to live day-to-day only concerned with finding enough money for his next fix, than it has been for him to address his mental health issues head-on.

This is not who Patrick is.
This is not who any of the mentally ill people on the streets are.
They need our help. There has to be the option for us family, friends and indeed members of the public to say — "This person needs help" and for mental health professionals to step in and take them to a place of safety.
We shouldn't have to wait until some terrible incident before we can phone 999 to ask for help.
And even then —phoning 999 has not helped proved to help anything in Patrick's case. Despite the police agreeing (February 2016 when he first became homeless) that Patrick is indeed a danger to himself and others, and even though I was assured that if he was spotted they would send an ambulance to take him to hospital – it has since been made clear by police that he isn't a priority due to not being 'missing' or 'wanted' and that it should be social services who step in instead. But of course social services can't do anything since we're now so far down the line that he doesn't have an address or a borough to be assigned to. And when he has been admitted to hospital whilst homeless, his records have not linked up and he's simply been sent back out onto the streets again afterwards.
In February Patrick turned up at a bar he is banned from in Shoreditch. He had taken a heroin overdose in the toilets of that bar in August 2015 and was resuscitated by paramedics on the scene. He was later told he had been dead for 10 minutes and if he'd been found any later he wouldn't be alive now. On this February evening in 2016 instead of begging outside the bar as he had previously been doing, he walked into the venue and started smashing his head repeatedly on the bar screaming that he wanted money. The bar staff said it was 'brutal' to witness. He would only stop hurting himself when a member of the public stepped in and gave him £5. By the time 999 were called he had already run off so they wouldn't send an ambulance or police car to look for him. In fact the woman on the 999 call told me to "Just forget about him".
This is just one incident among hundreds.
Patrick won't stay in one place long enough for help to be called, for help to arrive or for help to be arranged — which is one of the reasons having him sectioned has proved impossible. And so we are instead resigned to waiting until Patrick changes his mind. Until living on the streets becomes even more unbearable than facing the demons he's been running from for years.
For some reason it is down to Patrick to make that decision for himself.
Somehow the law thinks that Patrick, the schizophrenic heroin and crack dependent man living behind a bin, talking to himself/hitting himself in the head, and stealing from friends/shops etc., has proved he is proficient at making life decisions. Somehow Patrick has to be the one to make the decision that something needs to change — and he has to be the one to ask for help.
It would be laughable if it wasn't so tragic.
Patrick is beyond making decisions.

Patrick will not turn up to an appointment, pick up test results, take medication, fill out housing forms or anything 'normal' like a mentally healthy person might have the capacity to do. Anyone who has met Patrick in the past year knows this. He is beyond the help we are all so desperately trying to provide him with.
Patrick needs removing from the streets and placing in treatment over an extended period of time. He should not be left to walk the streets indefinitely, tied to a relentless crippling addiction to heroin/crack caused by an unbounding fear to address his own sadness and the psychosis he's been running from since his teenage years. He should not be reduced to begging, stealing and self harm — running into traffic/slashing his wrists/smashing his head against walls in frustration/anger at what his life has become. A cry for help some might say — yet as soon as help is offered, he flees.
Surely everyone deserves to be able to access the healthcare they need — no matter what their living situation or their state of mind. We must change the laws in order to help cater for and support mentally ill, homeless and addicted people who aren't able to make the right decisions for themselves. Someone needs to step in to make these decisions for them — to take these people off the street and work through their mental/emotional issues with them, integrate them back into society — before it's too late.
There are hundreds of people on the streets like Patrick — and a many a lot worse than Patrick. Our health services need urgently reevaluating to cater for the mentally ill and those who have become homeless as a result of mental illness — to give them a chance in life that they will otherwise miss out on.
The Mental Health Act needs updating fast — so that it's easier for family to help someone in Patrick's position. Currently, under Section 3 of the Mental Health Act**, an application for sectioning would need to be made by an Approved Mental Health Professional or nearest relative within 14 days of seeing Patrick. The application must then be approved by two doctors who have seen him within five days of each other. I've been told by charities and social services that sectioning would be almost impossible in Patrick's case — it's difficult enough to section someone who is present with a permanent address. And Section 4 requires an 'emergency situation' to appear — which is sadly what we're reduced to waiting for.
The question Patrick's family and friends have is — when will this end? How much more can my brother take before he decides 'enough is enough'? Until he has the courage to walk into the doctor surgery and ask for help? Until he has some sort of awakening and 'realises' that he is mentally unwell? Does he want to spend Christmas on the streets? His 29th birthday? Make it to the 14th February when it'll be a full year and he can add that to his CV?
Or will he never change. Will the next overdose be his last — for totally different reasons.
Broadcasting my brother's personal story on the internet is the last thing I wanted to do, but right now seems to be the only option left. The laws need changing fast — not just for Patrick, but for every mentally ill person sleeping rough, along with those who are currently undiagnosed. More money needs to be allocated to mental health care. We need to work towards solving the mental health epidemic, bringing mental health education into schools and helping remove the stigma attached to asking for help. Our education system should be working towards preventing the onset of mental illness through mindfulness and meditation, while teaching young people and their families how to identify the signs of mental illness early on. Future generations should be confident in asking for help knowing they'll have the full support of our health service.
***Please sign and share this petition urging the government to reassess the Mental Health Act, add mental health & mindfulness education to the curriculum, allocate more money to mental health support services and help find an immediate solution to my brother's desperate situation.***
Mental illness is the problem — addiction and homelessness are the symptoms.
Patrick's friends and family know him as a charming, loveable, funny and intelligent boy with extraordinary musical talents.
This is the Patrick that we all want to remember.
This is the Patrick that we are struggling to bring back to life.
There is more to Patrick than mental illness and addiction. We want to meet that Patrick again.
And we won't give up.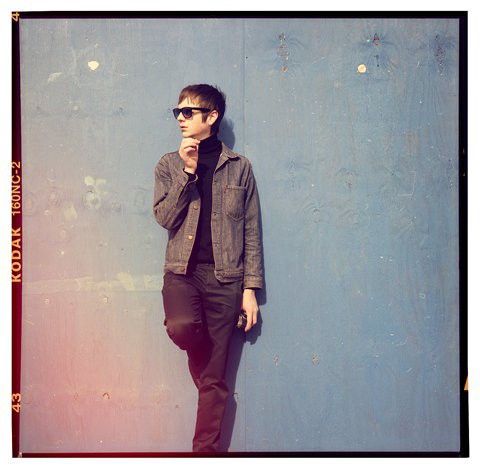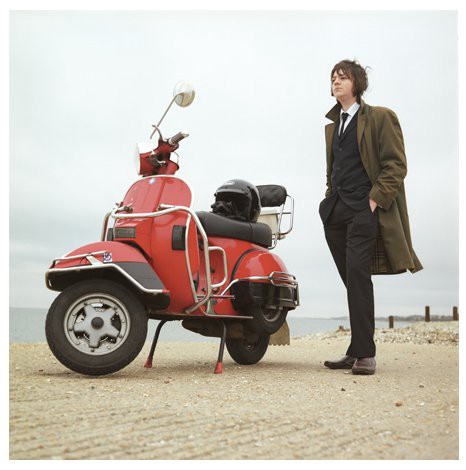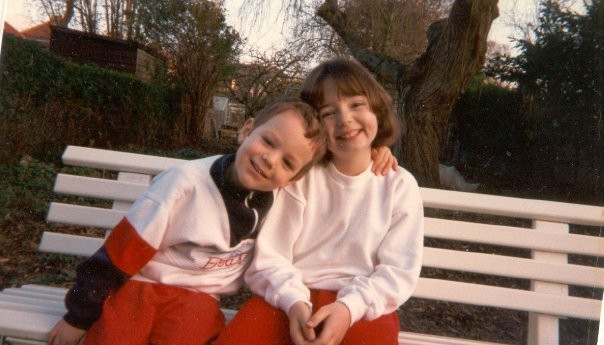 If this small insight into my brother's life can help just one person take their first step on the road to recovery, or enable just one family to spot/act on the signs of mental illness and addiction sooner — that would be an achievement in itself.
If you see Patrick on the streets and feel compelled to talk to him, my family urge you not to tell him you've seen him in a campaign/blog as that would cause him to run from the area he's been recently spotted in. However — you could tell him you recognise him from his YouTube channel and are a fan of his songs. Right now Patrick's love of music and his ridiculous amount of talent could be the one thing that inspires him to seek and accept help.
References:
*Mungos: Stop the Scandal: an investigation into mental health and rough sleeping  It's not right that anyone should be without a home, and it's nothing short of a scandal that people with mental health problems are stuck sleeping rough. — February 2016
**Mental Health Act 1983 This section provides information about detention under the Mental Health Act. This includes the criteria for detention or 'sectioning', information about different sections and the rights of someone who has been detained.
Further Reading:
The Guardian: In the 50 years since Cathy Come Home things have got much worse Ken Loach's drama exposed the tragic mental health consequences of homelessness, but half a century on the problems and failures are increasing — July 2016
Thames Reach: Thames Reach reiterates need to address mental health problems among young rough sleepers Thames Reach has reiterated the need to address the serious problem of mental health issues among people sleeping rough in London.
Metro: Here's what to do if you see a homeless person sleeping rough in the cold As temperatures drop, homeless people are more at risk than ever — January 2016
Abigail Balfe is a musician and writer. Tweets @Abi_Makes_Music.