This article was originally published on The Conversation.
Every year, the UK Home Office invites a sample of 50,000 people to tell them whether they have used any illicit drugs. Although you might wonder why anyone would willingly share this type of information, most people agree to take part. The survey helps us to understand the trends in UK drug use and informs policy and service planning.
So what does this year's survey reveal about Britons' use of drugs?
Overall, drug use at a population level remains stable. Cannabis continues to be the UK's favourite illegal drug with 2.2m people using it in the last year. Although this seems like a large number, it's worth remembering that 29m people drink alcohol every week and 9m continue to smoke.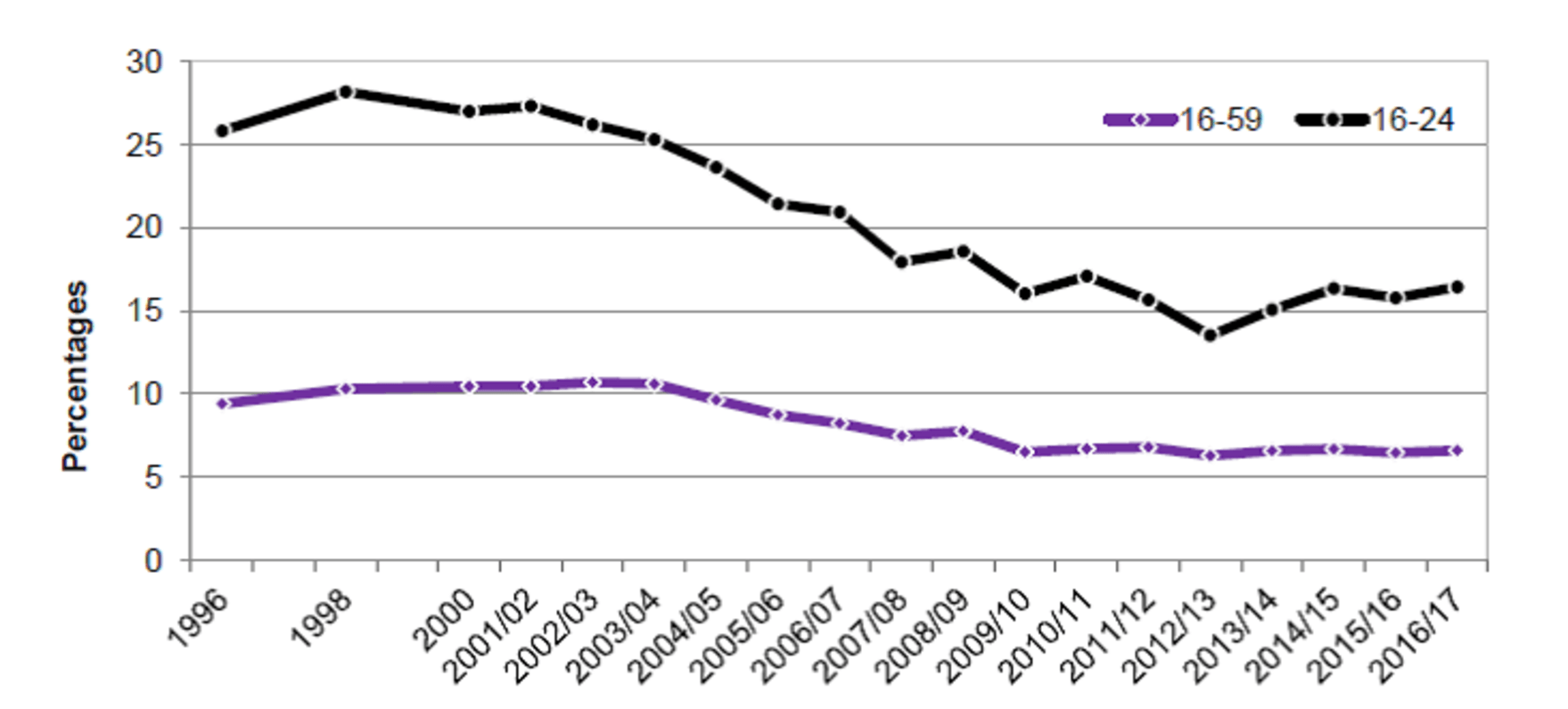 Heroin (27,000 users) and cocaine (760,000 users) use remains stable generally although there was a slight increase in the proportion of young people using cocaine over the last year.
Who is on what?
There are signs that more young people aged between 16 and 24 are using drugs – 19.2% (1.2m) reporting using a drug in the last year – although this is still a lower proportion than a decade ago, when 24.2% reported using drugs.
But a significant increase in anabolic steroid use is concerning, with 19,000 more young people using these type of drugs, reversing the previous trend of declining use. This increase reflects concerns about their use in sports of all types and levels.
Demonstrating how varied drug use can be by age, those aged between 55 and 59 have doubled their use of drugs over the last 20 years. Most of this is driven by an increase in cannabis use.
In 2016, Novel Psychoactive Substances (NPS) – referred to as "legal highs" – were banned in the UK and this would appear to have significantly reduced their popularity. Only 0.4% of the sample reported using this type of drug, compared to 0.7% last year.
But we cannot infer that fewer people are using NPS in the UK simply from a decrease in reported use of these drugs. This is mainly because NPS use is most prevalent in the groups that are excluded from the survey, such as homeless and prison populations.
Again, however, there are exceptions with nitrous oxide, or laughing gas, proving to be more popular than it was two years ago.
Reflecting concern about the rise in misuse of prescription drugs, the survey has asked people if they have used these drugs without a prescription – and 7.6% said they had. Unlike those using other types of drugs, the majority of people who misuse painkillers report using no other type of drug.
Into the future
While the survey can demonstrate trends in drug use there is real weakness in the prevalence data. This is because the survey is a household survey and misses out key groups such as students living in student accommodation, those who are homeless and "problematic users who are unable to take part in an interview".
Over recent decades, governments of all shades have continued to support a policy that aims to reduce the demand for drugs and restrict supply. This year's survey might be viewed as an endorsement of such an approach. But the survey continues to show how fast some trends in drug use can be.
It took the government seven years to update its drug strategy – that's geological time in the world of drug use. An increase in anabolic steroid use among young people means that young people will need to access vital harm reduction services, such as specialist needle and syringe programmes, which are entirely lacking in the 2017 Drug Strategy.
Not only is drug treatment receiving year-on-year cuts to its budget, but the penny pinching extends to this survey. Indeed, the Office for National Statistics (ONS) is currently consulting on whether to continue collecting drug use data as part of the broader crime survey. This would be shortsighted as the costs are negligible and the data informs policy which has the potential to save lives.
Ian Hamilton is a lecturer in mental health in the Department of Health Sciences at the University of York, with an interest in the relationship between substance use and mental health (Dual Diagnosis). Tweets @Ian_Hamilton_
Harry Sumnall is Professor in Substance Use at the Centre for Public Health, Liverpool John Moores University, a Board Member of the European Society for Prevention Research (EUSPR), and a trustee of the drug and alcohol prevention charity Mentor UK, but this article represents his personal views only. Tweets @profhrs