10 days have passed since Sadiq Khan was elevated to the role of London mayor, after receiving over 1.3 million votes from the city's electorate.
1 week has passed since Khan walked into City Hall to take command of the ship formerly under Boris Johnson and the Conservatives' control.
In the media there's been words exchanged by Khan with Donald Trump, further scrutiny on Zac Goldsmith's campaign and mockery of the Britain First candidate's odd behaviour on results night. I thought I'd share some of my thoughts and photos from that sunny day in May.
---
I dropped by City Hall on the 6th of May with the team behind Lee Harris and the Cannabis Is Safer Than Alcohol party, to experience some 'real life' London politics. I joined Paul Birch, the head of the party, and Lee as they waited for the count to be announced. As an Irishman I've been conditioned to expect low levels of charisma and excitement around such events, so I can't say I was expecting much in the way of thrills.
At #LondonMayor2016 announcements with @paulbirch99 supporting @lee4mayor pic.twitter.com/3bYQrLEEpj

— Alastair Moore (@alastair_moore_) May 6, 2016
Arriving at 4pm might have been a bit optimistic (the final count wasn't announced until after midnight) but it was an interesting place to people watch. I really didn't expect it to be as fantastically cliquey as it was.
City hall has the vibe of a school cafeteria

— Alastair Moore (@alastair_moore_) May 6, 2016
The sun beat down as the day rolled on. Citing unverified sources, many announced "the results will be announced in an hour's time". As each hour came and went, there was no sign of the final count being revealed. The BBC seemed to know, as did other news sources who were announcing Sadiq's victory by late afternoon, but still no big reveal down at City Hall.
Final count coming up #LondonMayor2016 #LondonElects pic.twitter.com/ntmiIvye6f

— Alastair Moore (@alastair_moore_) May 6, 2016
There was no sign in the amphitheatre of mayoral hopefuls of the Labour Party or the Conservatives – but the place was thronged with the smaller parties. The Polish Prince passed by and joked with Lee Harris' family, while stern looking patriots covered in Union Jack rosettes skulked around the outdoor area. Then, out of the blue, a titillating and foreboding atmosphere, similar to that uneasy feeling often associated with déjà vu, grew amongst the crowd – creeping its way up everyone's spines. Coasting in on a wave of awe and questionable sentiment came the James Dean of Middle England, Nigel Farage.
The lovely @lee4mayor and a man known by British people as @Nigel_Farage #LondonMayor2016 #LondonElects pic.twitter.com/ME19nML8I7

— Alastair Moore (@alastair_moore_) May 6, 2016
People started taking photos of him – some for ironic reasons – but by the time they returned they had the air of starstruck youths about them. Lee quizzed Nigel about his thoughts on drug policy before Nigel was whisked back into the centre of his young UKIP protégés, who rapidly set to work with their cigarettes to create a smokescreen to protect their leader from the adoring, scornful and confused looks of the others assembled in the courtyard.
One party that coincidentally shared the same name as Lee's catch phrase, the One Love party, were extremely amiable and their enthusiasm was infectious. Their candidate's only vice seemed to be the constant referencing of VICE's ability to harness the youth vote. A lovely crowd of people to spend the countdown with.
The nicest people here at city hall for #LondonMayor2016 pic.twitter.com/ZrQV2tGxbj

— Alastair Moore (@alastair_moore_) May 6, 2016
About 3 more hours passed and there was a tangible mounting tension amongst those waiting for the final results. Everyone knew who was going to win but they needed to know how many votes their candidate had got. The sun was going down and people's patience was wearing thin. Then, in a moment of tragic beauty, a shouting match broke out between the BNP and Britain First. Paul Golding, the Britain First candidate was at one time past the BNP Communications Officer , and by God was he communicating with his old colleagues. One can only speculate what they were bickering about.
Reports that City Hall's cafe is out of chips. Possibly linked.

— Alastair Moore (@alastair_moore_) May 6, 2016
Inside City Hall the Women's Equality Party had a better idea on how to entertain a tired crowd. They ushered everyone into a room where their founder, Sandi Toksvig, was about to put on an impromptu stand-up comedy performance. It was funny – but a very different type of funny compared to watching two groups of indistinguishable far-right nationalists getting riled up.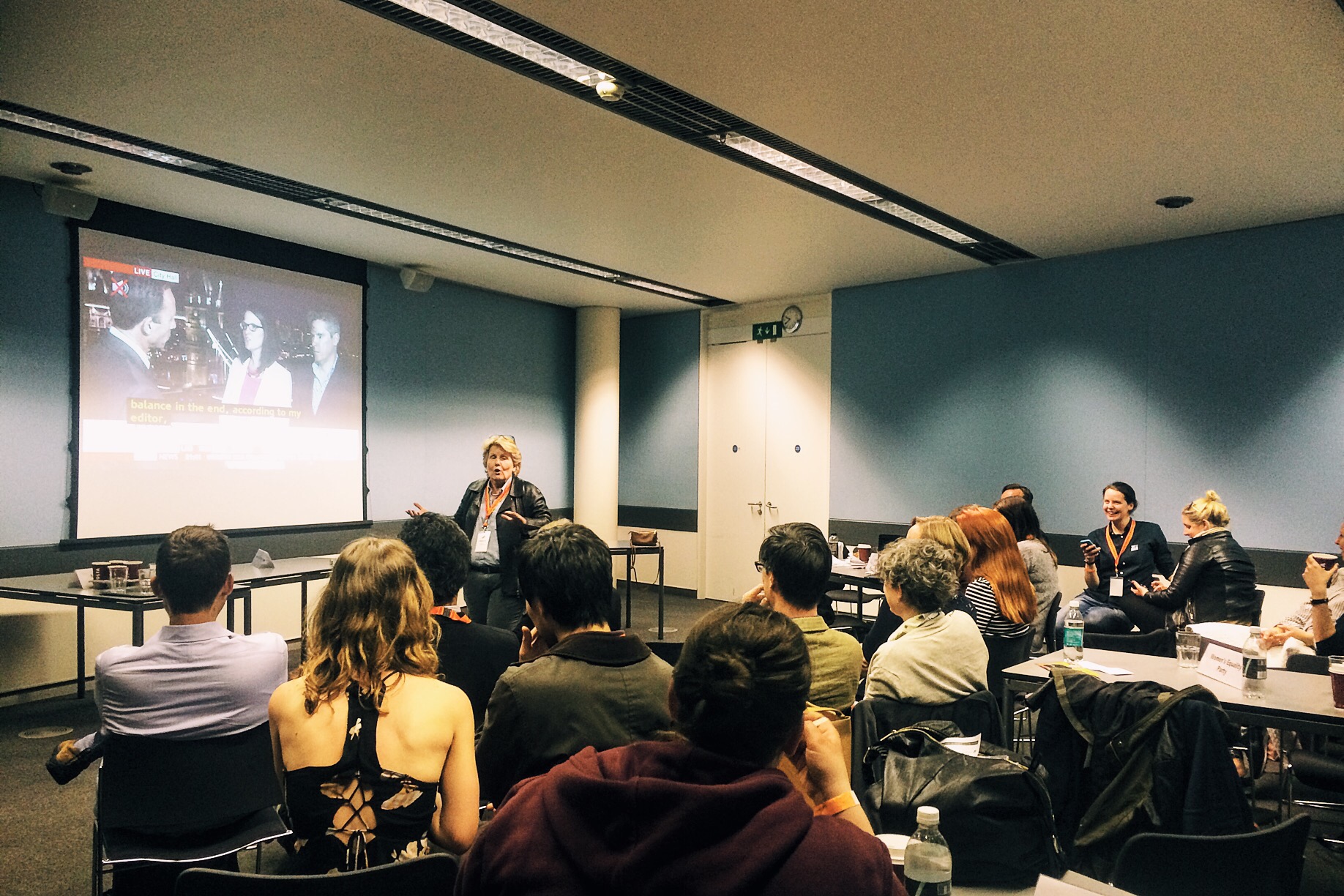 Finally the time was upon us to head into the auditorium for the televised announcement of the winner.
Spirits were as high as the BNP's votes were low.

To a concentrated but loud eruption of applause, it was announced that Lee Harris had received over 20,000 first preference votes, and over 67,000 2nd preference votes. The old guy I overheard in the pub a few nights earlier must have been a man of his word when he said;
"I know who I'm voting for… I've decided to give my Number 1 to Sadiq. And then… my Number 2… I think I'm going to give it to that reefer lad"

It was some experience – and it was a pleasure to share it with Lee and his team. It was heartwarming to see just how many people his cause and his character had connected with.
Long live @lee4mayor #LondonMayor2016 pic.twitter.com/E4HFyt6mOS

— Alastair Moore (@alastair_moore_) May 6, 2016
Alastair Moore is the Creative Director of VolteFace. Tweets @Alastair_Moore_ Instagrams @cheffmo