Since 2012 the Psychedelic Press has been publishing journals and books that deal with the role of psychedelic substances in culture, science, and history. The UK-based press has also emphasised the importance of visual culture in its pages, and has featured some of Britain's finest artists and illustrators within the pages of its publications, and adorning its covers.
Now, after four years, they have announced the first ever exhibition of this collaborative visual and print endeavour, and you are cordially and psychedelically invited to Eyes of Albion: Art of the Psychedelic Press. This one night only private view is taking place at The Kennington Residency and promises to be a feast for the eyes.
The exhibition is an important retrospective about the on-going collaboration between the print and art worlds of psychedelia in Britain which has for so long been the beating heart of the culture. According to Robert Dickins, Editorial Director of the Psychedelic Press: "We've been discussing an art exhibition of this kind for some time, and to have such an eclectic mix of artists together is a real treat, especially as they work in such diverse areas."
The 12 artists, exhibiting 17 pieces, who have contributed their vision to 21st century psychedelic publishing, will be on display together for the first time. From fine art illustration, visionary vistas, and charcoal rubbings, there is a palpable mix-media ethic which underlines so much about what psychedelia is all about.
The featured artists include: Jeremy Beswick – Lucy Brown – Edmond Griffith-Jones – Rebecca Jordan – Reuben Quatermass – Thomas Andrews – Sam Emm – Ciaran Shaman – Sam Ross – Luke Gray – Susannah Eatock – Cujo Cussler
Drinks, limited edition and signed prints, and various psychedelic publications will also be available at the event. Eyes of Albion is being professionally curated by Thomas Andrews of Done London.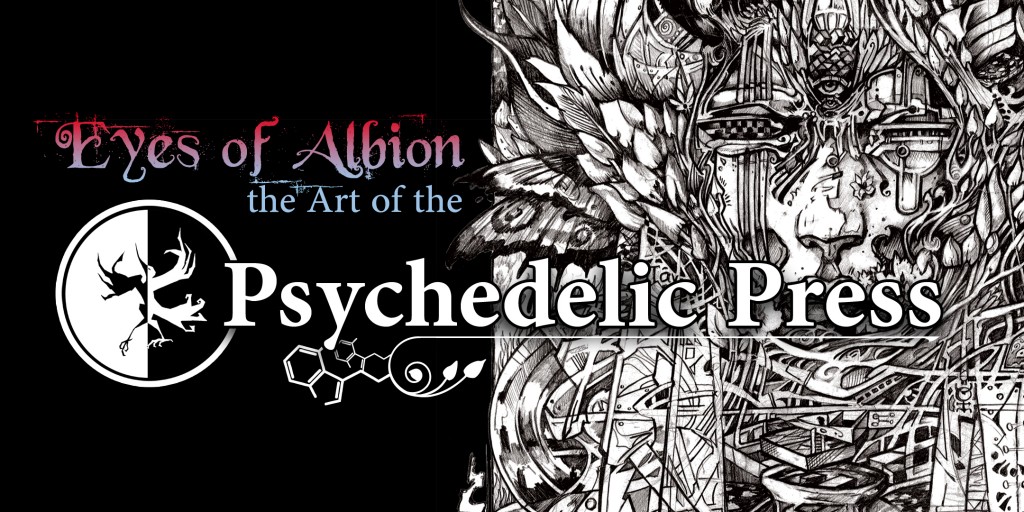 Presenting Eyes of Albion, and also exhibiting at the event is the Psychedelic Museum, which launched in October this year. Museums are places where we encounter the past through historic artefacts. In doing so we can connect to our community memory, see the present in a new light, and perhaps imagine different futures.
The time for this reimagining of the future could well be right. The phrase 'psychedelic renaissance' is being used these days to refer to massive upsurge in legal scientific research into psychedelics, including the clinical use of MDMA as a treatment for PTSD. The idea of the museum is to create a space in which we can showcase objects from the psychedelic community, everything from containers for LSD used in the recent clinic research through to underground psychedelic magazines and art from the countercultural explosion in the late 1960s and ethnographic shamanic objects from communities that have a tradition use of using psychedelics such as ayahuasca and peyote.
We're talking here about all the many expressions of psychedelic culture. Drugs and other ways of changing consciousness (such as the use of dance, music and experiments with things like the Brion Gysin and William S. Burroughs's dream machine) are obviously central but the cultural effect of those experiences (whether they are actual or imagined) turns up in art, music, advertising, technology and much more. Whether it's Shipibo textiles inspired by ayahuasca visions or 1960s pop art that mimics the visual effects of tripping, we want to represent not just the drug story but the way that these experiences affect and inspire different cultures.
We'll also be telling the story of military and medical research, the War on (some) Drugs and individual stories of medicine people, underground chemists, countercultural figures and artists. It's important that the psychedelic community, which is re-emerging in the Western world at the moment, knows its history and has access to the experiences and wisdom of the past. As Bob Marley said: "If you know your history, Then you would know where you coming from."
The museum operates a 'distributed collection' approach that allows people who own psychedelic artefacts which they would like to loan for exhibition to add their item to a database. We sort out the insurance, transport and security and our supporters loan us the objects, and as the collection grows, it can be viewed online. This is a real grass roots project and we've already had some really amazing offers including whole archives belonging to significant people in the counter cultural scene.
Other people involved in the project include LSD and countercultural historian Andy Roberts, and Psychedelic Press editor Nikki Wyrd. We've have enthusiastic support for the project. Donations of money, offers of volunteer time, some amazing artefacts people would like to show and great stories to tell. We hope that VolteFace readers would like to contribute too. Setting up the worlds first Psychedelic Museum is going to be a great trip and we'd like many more people involved in helping to realising this vision.
Feature Image: Done LSD by Done London, exclusive to the Psychedelic Press.
Eyes of Albion: Art of the Psychedelic Press is on 6pm – 10pm, Friday 18th November at The Kennington Residency, SE11 5QU. Register for a free ticket here.
Robert Dickins is the founder and editorial director of Psychedelic Press and a founding member of the Psychedelic Museum. Tweets @RobertDickins
Julian Vayne is one of the founding members of the Psychedelic Museum.