Following the tragic news of Ron Hogg's death last week, Michael Fisher of Teeside Cannabis Club pays tribute to the man who he credits for the progress and longevity of the club:
I first met Ronald Hogg whilst running a facebook page from which I was distributing cannabis oil. He'd read a profile on me in the local newspaper, The Northern Echo, and wanted to meet me for a "cuppa".
When you've grown up on a council estate and have been raided for cannabis on multiple occasions an invite from the Police and Crime Commissioner for Durham Constabulary for a cup of tea would most likely result in me ending up in the back of a van. I politely (in fact not so politely) declined the offer.
Anyone who'd ever met Ron would know that he was persistent and we finally did meet for that cup of tea. It turned out that Durham police (under Ron) had their eyes on me. It wasn't to arrest me but to figure out how someone who was giving cannabis away to sick people at a personal financial loss could turn it around to provide a harm prevention service that could benefit the
community in one of the most run down corners of the UK.
When my father died in 2013 I was left a bit of an inheritance which I invested in cannabis to make oil to give away. The facebook page I set up was to distribute this oil. Ron came into my life in August 2014. He took a chance on a kid with a record and put his career on the line in the process.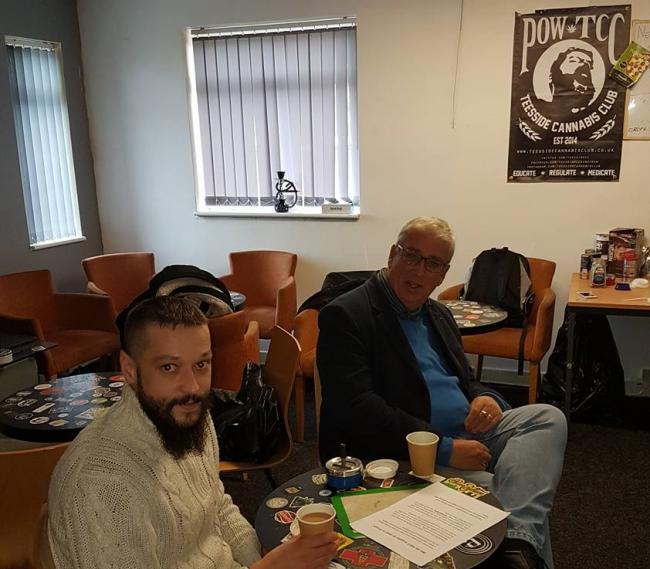 Ron was a gentle giant of a man with a cracking sense of humour who always attempted to lift the mood. He'd spent his career seeing the devastation drug abuse inflicts on a community. He knew arresting everyone was not the way to solve the issue and invested himself in helping people to push a provocative agenda.
Ron guided me to professionalise my model to safely distribute cannabis products and remove the harms associated with black market use. He helped me establish a harm reduction centre that now distributes cannabis to around 500 members. He had spirit and conviction. When the Daily Mail ran several articles in an attempt to drag his name through the mud he took it in his stride and was convinced that we'd come through it all unscathed. We did.
When we first met I had no purpose in life. I'd lost my dad and my granddad and was in a custody battle for my two small girls. It was Ron who convinced me to turn the club into something economically viable. In the absence of a father figure Ron filled that void and gave me a shoulder of support and a network a lad from a council estate could never dream of. He gave me confidence and a purpose.
Teesside Cannabis Club now operates on Stockton High Street, just around the corner from Cleveland Police HQ. We help people overcome alcohol and harder drug addictions through contact with support groups. We run ladies and comedy nights and our members are aged 23 to 85.
Thanks to Ron, we have built a model that can be emulated throughout the UK. Our second club will be opening soon in Durham and will be dedicated to Ron. I intend to dedicate my life to practicing what I learnt from this fine man who was the best friend the UK cannabis community could ever have. May he rest in peace and his legacy continue.
Michael

 

Fisher

 is CEO  of Teesside Cannabis Club and founder of Exhale harm reduction centre.