You can now place a bet on cannabis becoming legal in the UK within the the next ten years.
Ladbrokes are offering odds of 3/1 that cannabis will become 'legalised and regulated in the UK by 2026'.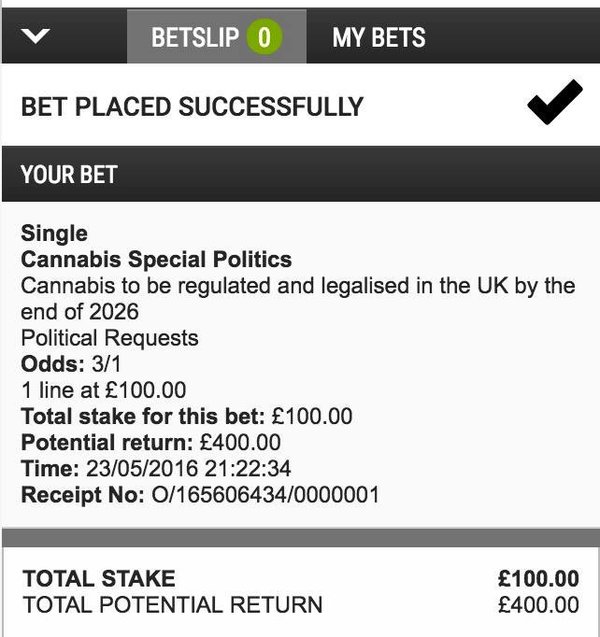 VolteFace understands that Ladbrokes have used Justin Trudeau's manifesto as the model for what constitutes the exact criteria for 'legalisation'.
Punters will have ten years to see these legislative changes made in the UK for their bet to come in.
News of the bet has prompted a frisson of intrigue amongst the drug reform community:
You can get 3/1 odds that UK will legalise cannabis by 2026. Seems like a pretty decent bet to me!
pic.twitter.com/V3YmlWdKAF

— Steve Rolles (@SteveTransform) May 24, 2016
You can now make this bet legally ? https://t.co/OG1U4VoLp6 pic.twitter.com/DvwaPKQ3Ps

— CISTA-UK (@CISTA2015) May 25, 2016
Cannabis legalisation is becoming increasingly palatable to politicians, and, as bookmakers begin to invite the general public to bet on the UK joining the likes of Canada and Uruguay, one can sense the question switching from 'if' to 'when?'
Ladbrokes were contacted but declined to comment.
Words by Calum Armstrong tweets @vf_calum
[READ] Say Why To Drugs with Dr Suzi Gage