The United Kingdom is starting to talk about cannabis as a medicine.
End Our Pain, a campaign to give patients legal access to medicinal cannabis, launched earlier this month.
This new movement, that coincides with the start of a medicinal cannabis storyline on Coronation Street, has already generated considerable media attention.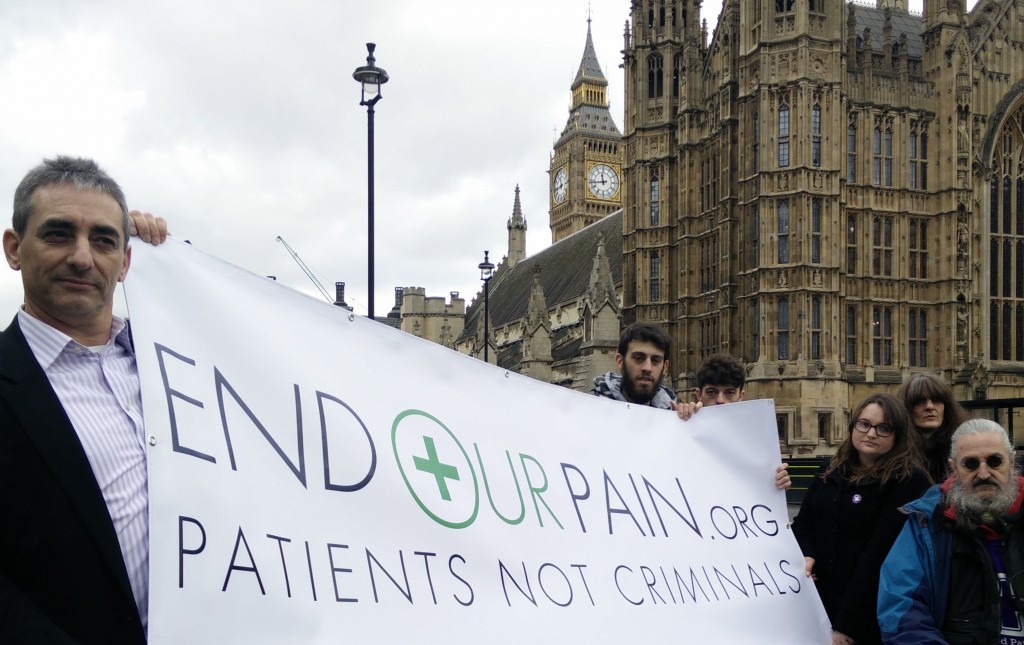 Even though a handful of countries, most notably the Czech Republic and the Netherlands, allow patients access to medicinal cannabis, only one company licensed to grow cannabis for medicinal use exists in Europe: Bedrocan, tucked away in the far north of the Netherlands.
Earlier this month, we went to Amsterdam to meet Arno Hazekamp, molecular biologist, plant biochemist and chief scientist at Bedrocan. Over coffee at Schiphol Airport, we spoke about the complex world of pharmaceutical cannabis with the man who is, arguably, one of the world's foremost authorities on the subject.
That elusive creature: a cannabis enthusiast who is, above all, a scientist and not a smoker. Hazekamp's background is in traditional medicine – a childhood compulsion to 'take things apart and see how they worked' led quite naturally to Hazekamp starting a PhD in 2001.
The normalisation of cannabis consumption in the weed-friendly Netherlands has seemingly done something to extinguish its allure to the nations younger generations. Hazekamp himself only arrived at cannabis in a roundabout fashion, after a trip to Thailand kickstarted an interest in studying medicinal plants.
'Bedrocan and I grew up at the same time', explains Hazekamp, who has been part of the set up since Bedrocan started back in 2003.
Hazekamp had studied beforehand as a molecular biologist, but quickly grew bored of the repetitive nature of life in the laboratory. Bedrocan presented him with an opportunity to apply his scientific skills to work with more social relevance, offering to supply the high quality cannabis needed for his PhD in medicinal cannabis.
Bedrocan has a regulatory bureaucratic body all to itself in the form of the Office of Medicinal Cannabis. Situated in The Hague, the OMC makes it possible to perform research under the 1961 Convention on Narcotic Drugs, which maintains that cannabis has no medicinal value. This made work much easier for Hazekamp, who initially couldn't even order the cannabis related compounds like THC and CBD he needed for his studies, leaving him no option but to isolate the compounds himself from Bedrocan cannabis plants.
This DIY approach led Hazekamp to eventually start his own 'consultancy lab', where he could share research tools with fellow students of cannabis' scientific properties – by its completion in 2007, his PhD had become a veritable 'cook book' for testing the plant. In 2010, Hazekamp was appointed Chief Scientist at Bedrocan, and introduced a scientific, clinical approach to their processes.
Under Hazekamp's direction, Bedrocan published a series of papers covering the findings of their research into the medicinal properties of cannabis, including topics such as quality control, isolation of active ingredients, Cannabis vaporizing, oil and even cannabis tea. There may be a great deal left to discover, because there are still 'obvious gaps in cannabis knowledge' as Hazekamp tells us. Also, existing knowledge is scattered and misapplied frequently – for example, a group of physicians who tested Bedrocan products in tea form prepared the cannabis incorrectly so the active cannabinoids could not dissolve, and were reporting that cannabis tea does not work for pain patients (a simple change to the tea recipe fixed the experiment). Such 'mistakes' have occurred frequently in all kinds of studies on cannabis, leaving Hazekamp adamant that there is still much more to be done in terms of education. It is high time for standardising the knowledge around cannabis which has, until recent times, sprouted around the world in a sporadic and scattered fashion.
This disjuncture in cannabis research is doing a disservice to the many millions of patients worldwide who are demanding access to medicinal cannabis – 'someone needs to explain this better to people' urges Hazekamp.
Hazekamp is already making efforts to do just that – organising and hosting a series of 'masterclasses' on the scientific study of cannabis in locations across the world. Bringing together small, select groups (no more than twenty or so per event) of scientists, activists, patients and policymakers, the masterclasses incorporate practicals and excursions where participants (each of whom are personally screened by Hazekamp, to ensure they have 'the correct motivations', i.e. a sincere desire to help patients) are encouraged to form a self-sustaining scientific community amongst themselves – to share and preserve knowledge. The final goal: to make sure more people understand how cannabis can be used medicinally in a reliable and safe way.
As of this February, Hazekamp has gone independent – distancing himself somewhat from Bedrocan so that he can pursue his ambitions to expand his educational efforts. Hazekamp wants to operate with full transparency, and to be more independent of company ties.
His first masterclasses, around 2010, took place mainly with participants from the USA and Canada. Now, with an event planned in Uruguay fast approaching, Hazekamp is eager to expand the scope of his project. Furthermore, masterclass participants are sourced from all corners of the planet – a recent event boasting pupils from thirteen countries, including Chile, Brazil and Japan, making it a truly global mission in scope.
There is an endearing, ebullient quality with which Hazekamp recounts the successes of his masterclass project, and one can easily imagine him becoming a go-to figure for the media as coverage of medicinal cannabis spreads across Europe.
For now, however, Hazekamp is happy to go about his scientific studies and patient surveys, in addition to expanding his masterclasses, with a three year goal to establish a 'speakers' academy' comprised of dedicated scientists who can spread their cannabis expertise to others.
Our meeting is brief but it leaves a lasting impression – as demand for medicinal cannabis is becoming increasingly accepted, not only socially but scientifically, to have characters like Hazekamp on board is a blessing.