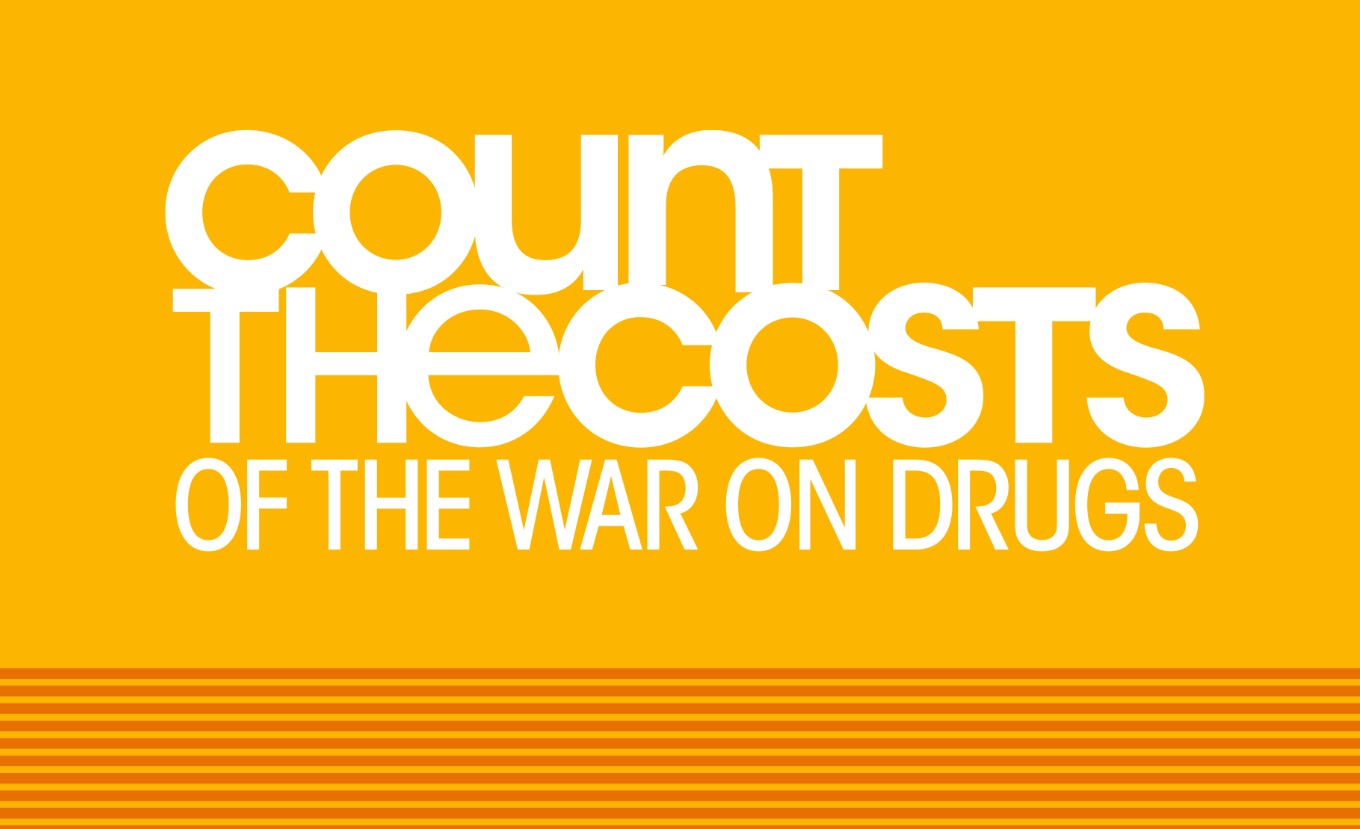 On the UN's 'Universal Children's Day', it's a useful time to reflect on the international policies which overlap and provide a legacy for future generations.
How do we give our emerging leaders the best chance of social mobility and holistic societal health?
To coincide with the UN children's day, a new report is sure to raise a few questions.
In the latest briefing paper, 'The War on Drugs: Harming, not protecting, young people', we are granted a look into what current drug control policies are actually achieving in practice.
Written by lead author Steve Rolles, Senior Policy Analyst from Transform Drug Policy Foundation, this newest insight from the Count the Cost of the War on Drugs initiative looks at seven main rafts of harm in current drug laws. These include:
Threatening children's health by increasing drug dangers
Putting children in the line of fire by creating violent drug gangs
The links to trafficking and enslavement of children
Ruining young people's lives with criminal records
Destroying children's families by locking up parents
Making youngsters who take drugs scared to seek help
Preventing effective drug education, putting all children at risk
Global drug strategies have been in place for over half a century with a view to protect our youth from falling into the potential pitfalls of drug related harms.
Conversation invariably becomes the most emotive when we think of the children – this phrase has been adopted as drug policy mantra with sincerity and ridicule in equal measure.

In what the UN refers to as 'unintended consequences' the latest Count the Costs report provides us with an unprecedented look at the layers of harm in which families may be unware. A Count the Costs spokesperson said,
"The global drug war has been fought for decades on the basis that it protects young people. This new report demonstrates that, in fact, it harms and kills them. Criminalisation doesn't stop young people taking drugs, but it does dramatically increase the risks for those who do."
The full report will be launched at the Drug Policy Alliance Conference in Washington DC. Using evidence collected from Mexico to the UK, and Afghanistan to the US, this ground-breaking delve into punitive-led drug policies shows us that children are being hurt and killed worldwide because the protruding limbs of the 'drug war' and its insidious ramifications.
Highlighting numerous sources that criminal penalties do not deter drug use, the report concludes that laws often act as barriers for harm reduction and treatment options. The UK Home Office's International Comparators report is referenced alongside the other studies such as the European Monitoring Centre on Drugs and Drug Addiction, the World Health Organization, and the Organization of American States. These findings coordinate with independent health charities such as Rethink Mental Illness who also conducted polls on the deterrent factor of drug laws; they found that only 3% of respondents would be deterred from cannabis consumption if stricter laws were in place.
The Count the Costs briefing paper concludes that far from curtailing use,
'The threat of criminalisation, and the associated stigma and discrimination, frequently pushes drug use into the marginal, unsafe, and unhygienic environments, further jeopardising health of young people who use drugs.'
Treatment becomes ever harder to reach when caught in the cracks and on the fringes of society.
Often overlooked, the issue of essential medicines is also referenced. A staggering 80% of the world's population, including 5.5million people with terminal cancer, have little or no access to opiate-based medication. This is largely due to global control policies and eradication programmes which also greatly impact environmental health, often in hard to reach and impoverished regions.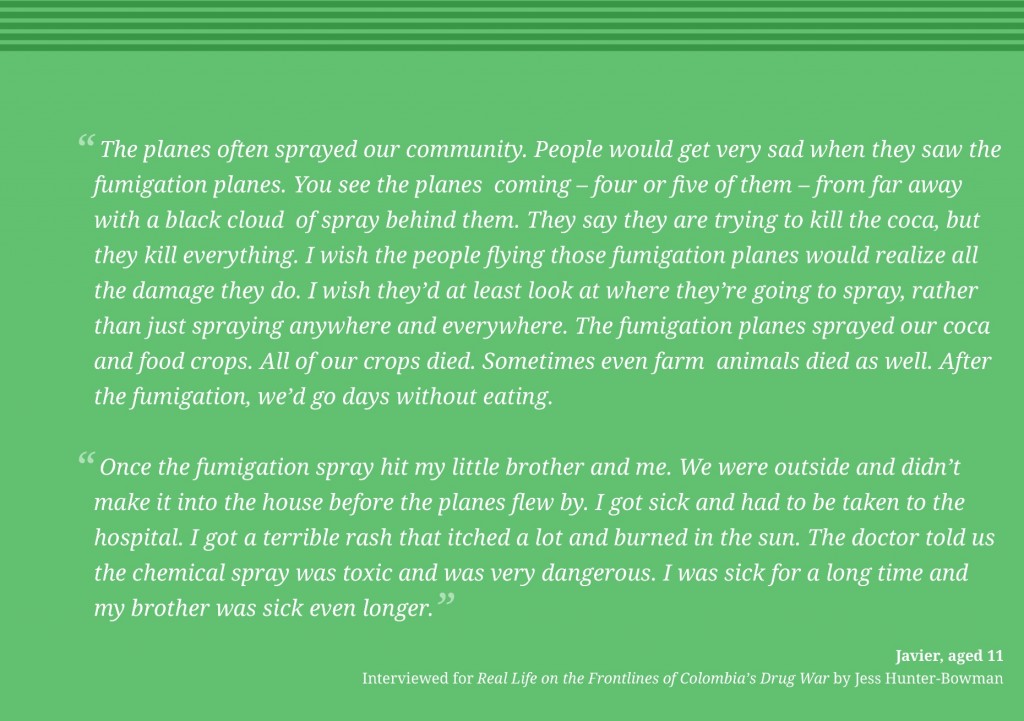 This comprehensive look at how the 'drug war' creeps into communities addresses firm crossovers and indicators between consumer countries and production regions:
'In Mexico, from 2006 to 2011, more than 25,000 children left school to join drug trafficking organisations. Such early involvement in the drug trade has also been well documented in Brazil, where drug gangs cultivate close ties with children and young people, building their trust by first paying them to perform simple, nondrug-related tasks, then recruiting them with the lure of weapons, power, drugs and sex. As the country's illicit drug trade has continued to grow, this exploitation of children has had increasingly fatal consequences. From 1980 to 2010, Brazil's homicide rate for people aged under 19 grew by 346% to 13.8 per 100,000, almost three times the growth in the murder rate for the wider population.'
Western countries, perhaps, won't see the same level of cartel warfare, but domestic gangs, often with interests in the preservation of their territories. These gangs will relentlessly recruit and guard their specific interests.
Children will always be the most vulnerable to these profiteers owing to drug prohibition, no matter what the country.
In conclusion, the report writes,
'As the UN Secretary-General, Ban Ki-moon, has said, it is essential that the drug policy debate is "wide-ranging [and] considers all options" – and that includes the decriminalisation of drug possession for personal use and the legal regulation of drug markets.'
The Count the Costs spokesman concludes in saying that "[criminalisation] produces many other disastrous and entirely avoidable harms for those that don't use drugs too. A historic UN meeting on drugs takes place next April; it is vital that it's slogan – 'A better tomorrow for today's youth' – does not end up being empty rhetoric intended to preserve the status quo. Because however well-meant, the war on drugs is, in reality, a war on young people. And it must end now."
Read the full report: 'The War on Drugs: Harming, not protecting young people'
Words by Jason Reed. Tweets @JasonTron
All images from Count the Costs report.